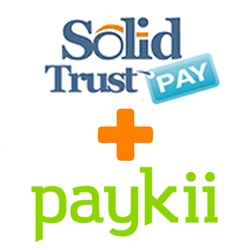 Bobcaygeon, Canada, October 14, 2017 --(
PR.com
)--
www.solidtrustpay.com
- Today, SolidTrust Pay announced that they have signed an agreement with PayKii Inc. (PayKii) to bring cross-border bill payment solutions to the SolidTrust Pay platform.
SolidTrust Pay is a global payment processor, and a staple in the online money transfer industry with an 11-year history in the business. SolidTrust Pay has been recognized by the International Fund for Agricultural Development (IFAD) for its efforts in making international family remittances easier and more accessible.
PayKii is the leading provider for Latin American bill payment coverage, connecting remittance providers with billers around the world, and enabling individuals living abroad to conveniently pay bills for their family back home.
Earlier this year, SolidTrust Pay endorsed IFAD's International Day of Family Remittances (IDFR) on June 16 with a day of free member-to-member transfers. They also signed IFAD's IDFR pledge to work together to enhance innovative financial technology, provide greater efficiency, and lower costs for a more accessible financial sector for all.
With this announcement, SolidTrust Pay is solidifying its commitment to that pledge. When CEO Stella Hiemstra was asked if her company plans to continue implementing resources and solutions to improve the ease and accessibility of international remittances, she responded enthusiastically that the answer to that is "definitely a yes!"
When asked about the partnership with SolidTrust Pay, CEO of PayKii, Fabian Saide remarked, "it gives us immense pleasure to announce this collaboration with Canada's industry leader bringing new cross-border bill payment services." He went on to state that PayKii "will continue to expand its international footprint by opening up additional markets in 2017 in support of SolidTrust Pay's users."
According to PayKii and Juniper Research, bill payment accounts for up to 20% of remittance beneficiary's expenses with billions of transactions globally.
Through PayKii cross-border bill payment integration, SolidTrust Pay hopes to make regular and remittance bill payments easier and more accessible. Users of SolidTrust Pay will be able to pay electricity, telephone, internet, cable, water, and gas bills directly from their SolidTrust Pay e-wallet, eliminating the risk and cost associated with regular money transfers.
SolidTrust Pay expects to have PayKii bill payment solutions fully integrated on their platform by October 15, 2017 for the following locations: India, Pakistan, Indonesia, Philippines, Mexico, Colombia, El Salvador, Ecuador, and Costa Rica. Vietnam and Dominican Republic will be available on October 16. Guatemala and Nicaragua will be available before November 1.