Marc Ian Snyderman, Esq. Announces Formation of Snyderman Law Group, PC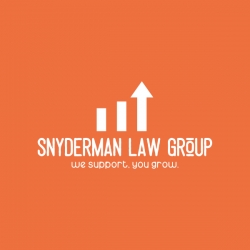 Cherry Hill, NJ, October 16, 2017 --(
PR.com
)-- Marc Ian Snyderman, Esq. announced today the formation of Snyderman Law Group, PC, a multi-service law firm serving businesses and business owners by providing outside general counsel services, real estate law and general corporate matters all with a business perspective.
Snyderman is a former C-Suite executive with significant legal and operations experience in rapid growth companies. He brings his experience as a General Counsel, Chief Operating Officer and Chief Compliance Officer to provide practical legal and business solutions to help clients grow. He specializes in government contracting, technology, engineering and software development, risk management, employment law and strategic consulting as well as general corporate matters.
"Providing expert legal services through the lens of a business executive was my goal. We give our clients skilled legal counsel without over-lawyering or frustrating the process. We have a unique understanding of how businesses work and how business owners think. This perspective allows us to support our clients at the highest levels but at prices that are affordable," said Snyderman.
Joining the firm as an attorney is Antonella Colella, Esq. Antonella provides legal counsel to entrepreneurs, investors, and both growing and established companies throughout Pennsylvania and New Jersey. With both law firm and in-house experience, Antonella is an expert in balancing legal and corporate needs to produce focused solutions that drive business growth.
"I'm excited to be joining Snyderman Law Group. The combination of legal, business, operational and entrepreneurial expertise sets us apart from the traditional law firm model and gives us an advantage when supporting our clients," added Colella.
To learn more about Snyderman Law Group, visit
www.snydermanlawgroup.com
.
Snyderman Law Group, PC provides legal services to businesses and business owners. The firm has offices in Cherry Hill, New Jersey and Bala Cynwyd, Pennsylvania.
Contact
Snyderman Law Group, PC
Marc Ian Snyderman, Esq.
856.324.8267
snydermanlawgroup.com

Contact