DrFormulas Releases Nexabiotic Probiotics for Pregnant & Breastfeeding Moms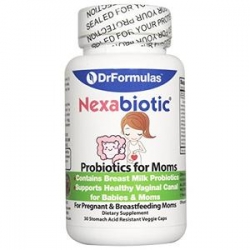 Huntington Beach, CA, October 19, 2017 --(
PR.com
)-- DrFormulas, a leading healthcare company that uses best scientific and nutritional techniques to create supplements and more, is has released their new product, Nexabiotic Probiotics for Pregnant & Breastfeeding Moms. The prenatal and postnatal supplement is now available on the
DrFormulas website
, as well as on
Amazon.
DrFormulas has established themselves as a reputable company due to their commitment to using the best ingredients in their products. Their latest probiotic, which was designed specifically for pregnant and breastfeeding mothers, ensures the safety of both mother and child when consumed. The unique formulation contains 23 powerful probiotics, or microorganisms that can aid the body, particularly the gut and digestive tract.
The presence of these probiotics while a mother is pregnant or breastfeeding is also beneficial to the infant. As the mother regularly takes Nexabiotic Probiotics for Pregnant & Breastfeeding Moms, the beneficial bacteria can aid in the infant's gut colonization through vaginal birth and through breast feeding.
"We've put an extensive amount of time into researching the nutritional science behind pre- and postnatal vitamins. Ultimately, we created the Nexabiotic Probiotics for Pregnant & Breastfeeding Moms and our team feels confident that the product will be extremely beneficial for both mother and child. During the formative stages of a child's life, digestive health is of the utmost importance. We're ecstatic to release this powerful probiotic, and can't wait for mothers to check it out themselves," said Bryan Tran, CEO of DrFormulas.
Nexabiotic Probiotic for Pregnant & Breastfeeding Moms contains PreforPro, cranberry, mannose, probiotics and more. The combination of these nutrients leads to healthy urinary tracts and vaginal canals, bolstered immune systems, probiotic support for lactation and breastfeeding and necessary bacteria for a healthy digestive system.
The Nexabiotic Probiotic for Pregnant & Breastfeeding Moms helps mothers to maintain good health during their pregnancy and while breastfeeding. Adding probiotics into a prenatal and postnatal routine is essential for superior digestive and immune health for both mother and child. Colonization of newborns by probiotics may reduce allergy and immune problems later in life.
About DrFormulas
DrFormulas has been selling and distributing their highly nutritional supplements since 2010. Products are created with the consumer in mind, meaning that every supplement is designed to be as effective as possible. Each product carried by the company is carefully researched by doctors and scientists before ever making it to the production line and eventually into your home, because at DrFormulas, you come first. Visit
https://drformulas.com/
to learn more.
Contact
DrFormulas
Lisa Anderson
1-888-406-6499
https://drformulas.com

Contact