Transwater Announces Enhancement to Water Asset Monitoring Solutions & Services
TransWatch® service provides highly accurate remote water monitoring solutions and augments current TransMap® Sonar/Scan Survey Mapping of Frac Ponds.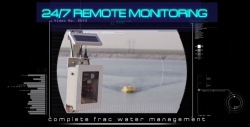 Midland, TX, October 20, 2017 --(
PR.com
)-- Transwater is pleased to announce TransWatch®, a new service to enhance its current set of water asset solutions.
"The importance of instant access to accurate data related to water availability and water conditions cannot be overstated," explained Randy Smith, President of Transwater Inc.
"We are proud to introduce a new service to the market that is a logical extension of our current TransMap® sonar-mapping survey scan of water pits."
TransWatch® is next generation technology for affordable, compact, mobile network enabled water monitoring for providing access to current data and historical reporting as well as user-defined alarm triggers for critical changing conditions. TransWatch® also provides monitoring for current chemistry and water usage for each frac project.
"It all starts with a simple, clean implementation that results in data feeds into our clients PC, tablet or smart phone within hours of an install," added Mr. Smith. "Our SmartBox and connected sensors keep a 24/7 watch on changing conditions and will alert you when things aren't quite right."
Randy also added that TransWatch® accuracy is further improved when installed after a sonar survey of the frac pit and analysis of current water volumes.
"With our TransMap® frac pit sonar-scan survey we are able to provide a complete, highly detailed analysis of current water levels, total capacity and a complete report of available water by gauge level." Randy noted that the report also includes detailed bathometry charts and a 3D frac pit model to give you a literal picture of your frac pit assets. "All of this is achieved using a state-of-the-art, 6 foot long, sonar and GPS enabled remote controlled watercraft!"
"And stay tuned...." Randy added. "Transwater will add additional technologies to further enhance our TransWatch® remote water management solutions. Announcements related to those are coming soon!"
About Transwater Inc.
Transwater is a leading provider of water asset management solutions for the hydraulic frac completions marketplace. Our experience in the industry makes us a valuable partner for frac pit scan/survey mapping, remote water monitoring.
Transwater...Transforming oil & gas water management with technology and science.
For product / service or media inquiries please contact
www.TransWaterEnergy.com
Steve Pruitt
432-242-5010
Steve@TranswaterEnergy. com
Contact
Transwater Inc
Steve Pruitt
432.242.5010
www.TranswaterEnergy.com

Contact