Justin Sayne Leather's Insanity Male Performance Brand Gains Solid Financial and Operational Partners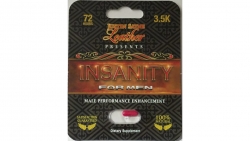 Mayer, AZ, October 20, 2017 --(
PR.com
)-- The Insanity brand of male performance supplements from Justin Sayne Leather has picked up new financial and operational partners, setting the stage for growth in the mainstream market.
Two mainstream investment and incubator corporations Capital Consulting and Prime Vector, L.L.C have signed on to invest in Insanity's growth. Capital Consulting Inc. is a Florida-based company that's been in business for more than 18 years. While most of Capital Consulting Inc.'s investments have funded fast-growing publicaly traded companies, Capital Consulting Inc. CEO Mark Schaftlein says he sees great potential in the Insanity brand.
Insanity also has garnered the support of Prime Vector, a boutique incubator investment firm led by Barry Henthorn that also primarily invests in emerging publicly traded companies. Henthorn, an American inventor/developer and pioneer of technologies as well as an accomplished businessman who was named the "Most Innovative Public Company Leader" to watch in 2015 in Forbes Magazine.
Henthorn introduced Schaftlein to Justin Sayne and his Arizona-based multifaceted company, which also manufactures leather gear for the adult and music industries.
Prime Vectors' Barry Henthorn stated: "Having known Justin for two decades I have always been impressed by his determination and acumen for getting things done. Now that Insanity has the financial backing and additional industry experience in place, I believe it will be able to grow exponentially."
Capital Consulting CEO Mark Shaftlein remarked: "We formed a partnership based on Justin's longtime friendship with Barry who I have known for several years. We took a look at his operation in Arizona and we got to know more about Justin's excellent work ethic. He really knows what he's doing and with our help, some capital, and Barry's role in marketing, Justin's business is slated to grow for an extended period of time. Unlike pharmaceutical companies, all-natural products have huge potential among different age groups. Millennials currently present the biggest opportunity and will continue to in the next few years. Insanity is a low-risk, high-reward investment that is poised for rapid growth by expanding distribution channels and through online sales."
Justin Sayne shares similar views regarding Insanity's potential for expanding its reach.
"We intend to focus on specific crossover markets as well, including marketing to women who would buy for their men," he said. "JSL has had a tradition of looking to the mainstream during expansions and new projects. This deal brings two heavy hitters to the table. Barry Henthorn and Mark Schaftlein combined have more than 60 years of corporate experience. We are proud to have such talent on board, and excited to move forward with our Insanity operation."
For more information, visit JustinSayneLeather.com, or email justinsayneleather@yahoo.com.
Contact
Justin Sayne Leather
Justin Sayne
928-583-4819
www.justinsayneleather.com

Contact