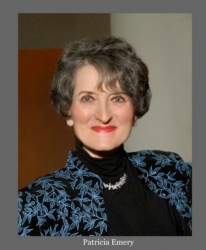 Detroit, MI, October 31, 2017 --(
PR.com
)-- In the age of the lightning-instant Internet, Patricia Ann Emery has become the Hans Christian Andersen of romance stories, facilitating free gift links from loved ones to loved ones around the planet through her innovative live "StoryTubes" reads over YouTube and Google as those leading-edge powerhouses rocket into the future.
Patricia spent the final stages of her full and purposeful life leading the non-profit collective of Stellar Scholars into the same exciting future-tense with her unbridled generosity and unabashed warmth for her fellow beings and their animal companions.
And while she succumbed to cancer on October 28, the feast day of hopeless cases patron St. Jude Thaddeus, she never surrendered her love for life or her life for love in its myriad forms from stories to music to art, all of which have been fostered by Stellar Scholars in its mission to leave mankind in the hands of Providence and that wondrous and mysterious of all unifiers, Love.
For the former Ford statistical supervisor, Patricia Ann Emery, the numbers bear out the successful direction in which she led the "Scholars" through their love and baseball stories to a remarkable forty percent increase in site visits since mid-June.
Impassioned readers from all fifty States and thirty-three foreign countries are growing and perpetual testimony to her tutelage and leadership.
Her longtime life's mate Frank Dattilo pays fitting homage: "Someone like Patricia comes along so rarely, like a Florence Nightingale or a Francis of Assisi, that their guiding presence lives on and on as Heaven intended."
Stellar Scholars Executive Creative Director Ashley Sword reinforces the tribute: "Patricia has been our compass and promises to be with us every step of the way with her guiding light of Love our beacon."