Top Business Woman Admits to Being a Victim of Abuse to Help Other Women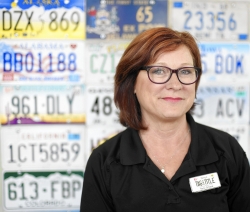 Columbia, MD, October 30, 2017 --(
PR.com
)-- Terry Smack, owner of Terry's Tags & Title, is a well respected and successful business woman and philanthropist in Carroll County. But in a new, short documentary she's releasing, titled, "A Survivor's Story," her community will be surprised to learn that she is also a long-time victim of domestic abuse.
"I suffered for many years in a violent marriage. And even when I was finally able to get out of the relationship, I still carried the shame," says Smack. You don't even realize it's happening, until it's too late and I hope that through sharing my story, other women will find the courage to leave as well."
Smack calls it "cutting the cord" and in her documentary, offers helpful tips to women about signs to watch for when the relationship has become unhealthy and unsafe.
1. If you have someone that is starting to take control of your life – who you call, what you wear, who your friends are, where you go – don't let them.
2. They are always trying to isolate you from your family
3. If someone is consistently putting you down – sometimes mental abuse is worse than the physical – but both have long lasting effects
4. Watch for frequent agitation, followed by seemingly sincere apologies
5. Let the first time someone puts their hands on you be the last time.
6. It's not your fault and it will not change. It is a vicious cycle. Get out.
7. Trust your instinct.
You know innately when something isn't right. Don't wait. Run. "I know the struggle and the fear all too well and if my experience can help even one woman come forward, it matters. Do not worry about embarrassment or judgement, just get out and find help immediately."
"A Survivor's Story"
www.vimeo.com/240314497
If you are in an abusive relationship and need help, please contact the National Domestic Violence Hotline at 1-800-799-7233.
Contact
Voxxity Media
Rich Fraser
240-688-8915

Contact