Musotica's Festive and New Year Lingerie Collection Embraces New Materials, Styles and Color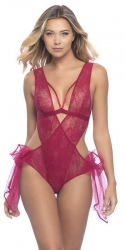 Los Angeles, CA, October 30, 2017 --(
PR.com
)-- With the festive season and New Year fast approaching, Musotica has launched their latest fall and winter lingerie collection.
This year, the renowned online lingerie and fashion website have opted for something new, introducing a collection of new materials, styles and color.
The latest collection hails microfiber as their wonder product. A material often used in sports wear, microfiber is deemed to offer a comfortable alternative to traditional lingerie materials.
When asked about the collection and the use of microfiber, Musotica founder and celebrity stylist, Sarah Wallner said: "I am excited for this collection, the use of new materials opens up more choice. The use of microfiber, soft lace cups, delicate lining and panels offer a far more practical and comfortable fit."
As well as the use of new materials, the collection is themed around festive coloring and offers new designs, including the use of cap sleeves, high necklines, harnesses and open back styles.
The expansive collection also keeps the plus size market in mind, offering all new designs in larger sizes to accommodate fuller-figured women, something Sarah notes she is proud of.
"In regards to the availability of
plus size items
, I champion the offering we have for curvier women. At the end of the day, our mission is to promote body confidence for all," she added.
The collection focuses itself on comfort and confidence, with many pieces not including underwiring or traditional hook closures.
If you need help choosing your holiday lingerie, why not take a read of Musotica's latest blog post: Why it is important to find the right material and color for you when choosing lingerie.
Contact
Musotica.com
Sarah Wallner
818-533-1297
http://www.musotica.com
Dress to Undress with Celebrity Stylist Sarah Wallner and her collection of super sexy Lingerie for Fall, Winter, Summer and Spring.

Contact