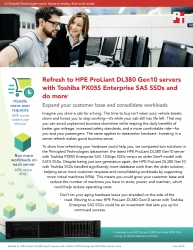 Durham, NC, July 09, 2018 --(
PR.com
)-- Holding on to aging hardware can mean that businesses aren't getting the daily benefits of the latest technological advances when it comes to database performance. Principled Technologies compared a new HPE ProLiant DL380 Gen10 server with Toshiba PX05S SAS SSDs to a previous-generation HPE ProLiant DL380 Gen9 with SATA SSDs and found that the new solution handled 65 percent more orders per minute and supported 60 percent more virtual machines.
According to the report, "Despite being just one generation apart, the HPE ProLiant DL380 Gen10 with Toshiba SSDs handled significantly more database work than the older solution, helping serve more customer requests and consolidating workloads by supporting more virtual machines (VMs). This means you could grow your customer base and reduce the number of machines you have to store, power, and maintain, which could help reduce operating costs."
To learn more about how users could benefit from the HPE ProLiant DL380 Gen10 and Toshiba PX05S Enterprise SAS SSDs, read the report at
http://facts.pt/m1m109
and see the video at
http://facts.pt/vs59tq
.
About Principled Technologies, Inc.
Principled Technologies, Inc. is the leading provider of technology marketing and learning & development services.
Principled Technologies, Inc. is located in Durham, North Carolina, USA. For more information, please visit
www.principledtechnologies.com
.