Exploring New Horizons: TransCultural Exchange's 6th International Conference on Opportunities in the Arts
TransCultural Exchange announces its 6th International Conference on International Opportunities, heralded as "the single most exciting and productive art event ever experienced. A fully interactive conference structure that provided a limitless number of opportunities for artists to meet and exchange ideas with residency directors, museum curators, and other artists and arts professionals."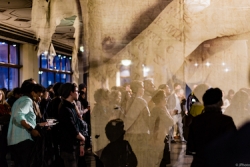 Quebec City, Canada, November 06, 2017 --(
PR.com
)-- TransCultural Exchange's International conferences are the only of their kind, bringing together hundreds of international artists, residency directors, arts teachers, administrators, biennale organizers, cultural attachés, high-level critics, curators, grant makers and those in other fields looking to work with artists.
They are, according to past student attendees, the missing link between academia and a real-world practice. And, for more established artists, they are an essential forum for networking with their peers around the globe:
Conference Overview
What constitutes a studio practice, an artwork, the art market and the role of art today is expanding in ways never before imagined. Relatively new, and yet to be concretely defined, terms such as "artistic research," "trans-disciplinarity" and "the creative industries" are now common quoted rhetoric. Digital technologies have become standard tools in an artist's arsenal, fabrication and outsourcing are readily accepted and a PhD in the arts is gaining ground in some countries – while the arts are completely omitted from the education system in others. Meanwhile, the traditional support mechanisms for artists – such as a gallery or patron – continue to be out of reach for most, while artist-run initiatives and artist-in-residence programs are rising in popularity, popping up around the globe in hospitals, schools and social services. What does all this mean for today's artists and their practice?
To consider these developments and help artists navigate this exciting new terrain, TransCulturalExchange's 6th International Conference on Opportunities in the Arts: Exploring New Horizons will take place February 22 - 25 in Québec City with Université Laval serving as the academic host. This is the first time that the Conference is taking place outside of the nonprofit's home base of Boston.
With more than 100 speakers from nearly 40 countries – from as far away as Japan, Australia and Cameroon and as close as Europe, the US and South America – the ratio of attendees to speakers is nearly 3:1, making this an ideal chance to meet such presenters as the curator of the State Department's Art in Embassy's program Sarah Tanguy, curator and Founding Director of the NTU CCA Singapore Ute Meta Bauer, Director of the Swiss artists-in-labs program Irène Hediger, Founding Director of Québec City's Maison de la littérature Bernard Gilbert, Founding Director of Akademie Schloss Solitude Jean-Baptiste Joly, Co-Director of research at the Society for Art and Technology (SAT) Luc Courchesne, Program Manager for Visual + Digital Arts Creative Residencies at The Banff Centre Brandy Dahrouge, Program Manager of TransArists Marie Fol, CEO of PAMAR - Pan American Art Research Inc. Jan Hanvik, Fellow of the Trudeau Prize Simon Harel, Executive Director of the Alliance of Artists Communities Lisa Hoffman, Artistic Director of the Symposium international d'art contemporain de Baie-Saint-Paul Sylvie Lacerte, Secretary General of On the Move Marie Le Sourd, Founder of the Lighton International Artists Exchange Program Linda Lighton, Resident Director at the MacDowell Colony David Macy, Co-Director of Japan's Youkobo Art Space Tatsuhiko Murata, Manager of London's Acme Studios International Residencies Programme Lea O'Loughlin, President & CEO of the National Performance Network/Visual Artists Network Caitlin Strokosch, Founder of Montreal's ELEKTRA and BIAN, International Digital Arts Bienniale Alain Thibault, and project leader for the art/science programs at swissnex Boston Cécile Vulliemin, among many others.
More information available at http://www.transculturalexchange.org/2018-conference/overview.htm, including the full schedule of the over 30 panels, workshops, round-table discussions, informal networking activities and more at http://www.transculturalexchange.org/2018-conference/full_schedule.htm.
Contact
TransCultural Exchange
Mary Sherman
617.670.0307
http://www.transculturalexchange.org/2018-conference/overview.htm

Contact