Surf Delivers 1000 Wi-Fi Hotspots Across Kenya in 2017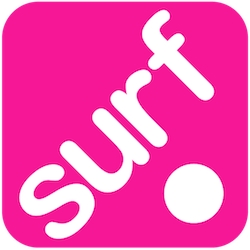 Nairobi, Kenya, November 08, 2017 --(
PR.com
)-- Surf in partnership with Internet Solutions Kenya and Express Wi-Fi by Facebook boosts connectivity to high-speed, affordable Internet.
Surf, a Kenyan ISP, will deliver high-speed, affordable Internet in more than 1000 public areas by the end of this year across 20 cities in Kenya with its Wi-Fi hotspot network. As of today, 850 hotspots are active.
Surf's Wi-Fi hotspot network serves the growing demand for connectivity around Kenya as prices of Wi-Fi enabled devices continue to drop and Internet penetration climbs. Working with service provider Internet Solutions Kenya, a number of hotspots were launched in partnership with Facebook's Express Wi-Fi program. Facebook's Express Wi-Fi partnerships empower local entrepreneurs to start businesses to offer internet access to their town or region. They also help people connect to the internet easily and for an affordable rate. Surf's hotspots cover Kenya's most populated cities including Nairobi, Mombasa, Kisumu and Eldoret. Surf works with local entrepreneurs, universities and consumer chains to establish new Wi-Fi hotspots and grow the network rapidly.
Customers connect to the hotspots with Wi-Fi enabled devices. Data bundles typically cost one-half to one-third the price of mobile data. In Nairobi, customers can opt to watch video advertisements in exchange for free data.
Speaking at AfricaCom, Mark Summer, CEO, Surf said, "Surf's mission is to expand Kenyan consumers' options for Internet access. We're excited to reach the milestone of 1000 hotspots before the end of 2017. Now everyone can stream more, connect more, learn more, play more and earn more income through doing business online. We are honored to be working with Facebook, which powers Express Wi-Fi, and Internet Solutions, our service provider partner enabling us to expand so rapidly throughout the country."
"In a country with only 12.5 million broadband subscriptions, we are betting on improving the technological and infrastructural environment to boost Internet access to the next million users. The expansion of our fiber optic infrastructure across the country will enable us connect more homes, as well as avail better, higher speeds to our customers," said Richard Hechle, Managing Director, Internet Solutions Kenya.
"Internet Solutions Kenya is a strong proponent of the solutions approach. By working with Surf to deliver quality and affordable bandwidth to middle and low-income users across Kenya, we enable a channel where content such as video traffic is accessible by customers. It also goes to affirm our business proposition of making the world work better through access to the Internet," said Richard Hechle – Managing Director, Internet Solutions Kenya.
"We are thrilled to see the number of Express Wi-Fi hotspots and users grow through our partnership with Surf and Internet Solutions Kenya," said Uche Ofodile, Regional Head of Africa, Express Wi-Fi by Facebook. "This launch is a significant step toward accomplishing our shared goal of reducing barriers to connectivity and giving more Kenyans access to fast and affordable internet."
"Working with Internet Solutions Kenya allows us to focus on optimizing and reducing the cost of the last mile connectivity to consumers rather than having to build a whole network from scratch. This approach of increasing the utilization of existing infrastructure investments through partnerships with existing service providers is core to our philosophy and encourages future infrastructure investment by our partners," said Summer.
About Surf:
Surf's (
http://surf.co.ke
) mission is to deliver radically low cost internet to all Kenyan consumers. Launched in 2015 as a wholly owned subsidiary of EveryLayer, Inc., Surf leverages EveryLayer's unique software and expertise to rapidly deploy and scale low-cost Wi-Fi based broadband networks. EveryLayer's software allows Surf to deliver lower cost broadband internet, making high-speed internet more affordable and financially accessible for Kenyan consumers.
About Internet Solutions (Internet Solutions) Kenya:
Internet Solutions Kenya (
http://www.is.co.ke
), formerly Access Kenya Group, is a Pan-African communications service provider of Cloud, Communication, Connectivity and Carrier services within Kenya and connecting outside Kenya. IS Kenya is currently running the country's premier business recovery and resilience site. In September 2013 Access Kenya Group was acquired by the Dimension Data Group at a cost of Ksh. 3.05 Billion and is now a wholly owned subsidiary of the Dimension Data Group, which is owned by NTT Group. IS Kenya leverages infrastructure and global footprint to support organisations with the rapid deployment of emerging technologies.
For More Press information contact:
Irene Warui
Surf
Cell: +254 723 443 858
Email: iwarui@surf.co.ke
Waithera Kuria
Internet Solutions Kenya
Managing Partner - ProAktiv
waithera.kuria@proaktiv.co.ke or +254 733 158 457
Contact
Surf
Kristin Peterson
+254700032001
www.surf.co.ke
Irene Warui
Surf
Cell: +254 723 443 858
Email: iwarui@surf.co.ke

Waithera Kuria
Internet Solutions Kenya
Managing Partner - ProAktiv
waithera.kuria@proaktiv.co.ke or +254 733 158 457

Contact