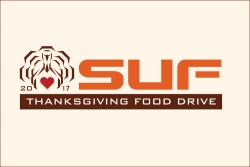 Babylon, NY, November 14, 2017 --(
PR.com
)-- Sci-Unison Fitness is a Suffolk County based fitness organization owned and operated by Ryan Sullivan. Mr. Sullivan is the coach of myriad athletes that compete in bodybuilding and physique competitions across the country under the moniker – Team SUF.
In 2013 Mr. Sullivan organized the 1st Annual Reps4Food Challenge to raise money for those less fortunate on Thanksgiving. In 2016 the
Sci-Unison Fitness Thanksgiving Food Drive
raised over $15,000 dollars in less than one month across multiple states. In 2017 they seek to shatter that number in order to ensure that many of those in need will have a warm meal this year on Thanksgiving.
Mr. Sullivan and his team are committed to guaranteeing that every donation is used to purchase food, and therefore, he takes it upon himself (with the assistance of other team members) to do all of the shopping and ensure delivery of the food. Mr. Sullivan offers a three prong innovative approach to donating in order to maximize donations. First, you can personally drop off non-perishable food items to World Gym in Babylon or Mr. Sullivan will personally pick up any donations. Second, if you are a business owner you can donate money directly to the charity and the team will do the shopping for you. Moreover, any business that donates over $100.00 will have their logo and business link added to the Sci-Unison Fitness website in recognition for you generosity. Finally, you can sponsor a Team SUF athlete in the Reps4Food Challenge. For every donation made the athlete you sponsor will perform a certain number of "reps" at their contest weight. Each exercise will be video recorded and shared on social media sites.
As of November 14, the team has raised $12,000 and is in line to shatter their record breaking efforts from last year. You can donate until November 20, 2017.