Polylast Bunker Liner Expands Distribution to the United Kingdom
Bunker liner Manufacturer, Polylast Systems to distribute to United Kingdom.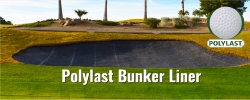 Scottsdale, AZ, November 15, 2017 --(
PR.com
)-- Scottsdale-based, Polylast Systems announced today, that it has expanded its bunker liner operations into the United Kingdom with the addition of a distributorship by Aitken's Sportsturf Ltd in Sherburn in Elmet, England.
Polylast founder, Pete Laurence, said "Golf superintendents and contractors in the United States, Canada and India have realized the value and benefits of the Polylast Bunker Liner and now we are pleased to introduce this revolutionary system to the UK." He continued with, "The Polylast Bunker Liner is in line with the quality of products and services offered by Aitken's Sportsturf, and we believe this will be a tremendous partnership."
"It's interesting that a livestock flooring system, developed over 20 years ago, would be solving, almost all the problems associated with golf course bunkers and sand traps," said Scott Gibson, Director of Business Development. He continued, "It's exciting to be part of something this big, with as much potential to help so many with a problem that has existed for decades."
In addition to bunker liners, Polylast provides Microban® Antimicrobial flooring solutions for livestock, vet clinics, commercial kitchens, marine applications, parks, patios, pool decking, and anywhere that mold, mildew and odor resistance of a Polylast floor is of tremendous value.
The company's website is www.PolylastSystems.com and to learn more about Aitkens and their extensive product line, visit www.aitkens.co.uk.
Contact
Polylast Systems, LLC
Scott Gibson
480-998-3033
www.polylastsystems.com

Contact