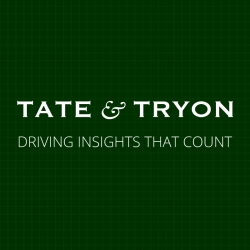 Washington, DC, November 16, 2017 --(
PR.com
)-- "Driving Insights that Count" —
Tate & Tryon
, a leading accounting firm for nonprofits, headquartered in Washington, D.C., announced its new tagline and fresh website, marking significant growth, and introducing a pivotal strategy to its service of the metropolitan area.
Charles Tate, the Firm's Managing Director, stated "The driver for this growth initiative is the industry's need to embrace data analytics in our community; to build insights that can help our clients make better decisions." Tate explained the strategy as moving from being reactive to proactive. He said, "Revamping our website and tagline represents a new era of innovation and more value in mind. We needed a strong tagline that moved away from 'accounting for the past,' for example, from historical-based traditional financial statement preparation to a forward-looking, data-driven reporting model. Hence our new tagline is: Driving Insights That Count. 'Insights' has a forward-looking, consultative connotation and embeds our institutional experience. 'Count' is a bit of a wordplay to indicate that we are accountants – but innovative and data-driven."
The enhanced look and feel of the website is a modernization of Tate & Tryon's brand, and one of its first steps in a proactive approach to the services it provides. The website's design, content, and structure are intended to work together to reflect Tate & Tryon's core values and communicate its capabilities in a new era of nonprofit accounting. Visit the new site at www.tatetryon.com.
About Tate & Tryon: Tate & Tryon is a leading accounting and management consulting firm, that specializes in supporting national and international nonprofits. The Firm has been named a 2017 IPA 200 Firm by INSIDE Public Accounting (IPA) for the fourth consecutive year.
Tate & Tryon's mission is to identify nonprofit accounting needs and execute solutions to meet those needs on a timely and consistent basis. The Firm plays a proactive role in practical, data-driven solutions that solve major challenges within the nonprofit sector. Tate & Tryon is committed to its staff and provides ongoing professional opportunities and training. Each service is delivered with sincere effort, intelligent direction, and skilled implementation to meet objectives on-time and on-budget.
Tate & Tryon clients represent a broad range of more than 600 national and international nonprofit organizations. Although Tate & Tryon serves various sub-specialties of the tax-exempt organization world, its entire practice is dedicated to exclusively serving charities, foundations, associations, advocacy groups, and other organizations. Nonprofit organizations have many lessons to share with one another. The depth of the firm's experience in the nonprofit industry affords its clients a unique view of best practices, which in turn enhances the level of service and overall value provided.
Tate & Tryon National Headquarters:
2021 L Street, NW, Suite 400
Washington, DC 20036
P: (202) 293-2200
Email: mcampagnolo@tatetryon.com