European Garden Living is Launching the Signature Planter Collection on the Wayfair in the US Today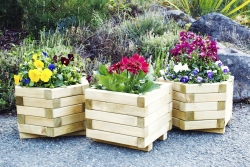 San Francisco, CA, November 22, 2017 --(
PR.com
)-- European Garden Living LLC, maker of sophisticated wood garden décor and furniture, is delighted to announce that a curated collection of its products will be available directly to discerning decorators and shoppers in the United States for the first time, starting in November on
Wayfair.com
. The collection will launch with European Garden Living's signature planters, and will later expand to include the company's elegant pergolas.
Known for its stylish array of durable, classic planters, easy-to-install decorative fence panels, and garden elements, including pergolas, gazebos, and other unique architectural wood décor, European Garden Living products are ideal for creating gathering places, intimate personal sanctuaries, and elegant transitions between yard and garden. By combining couture-quality design with hundreds of years' worth of skilled European craftsmanship, European Garden Living offers products that can be used as stunning standalone focal points, or can blend seamlessly with your other favorite outdoor furniture, plantings, and décor.
Rolf Behrsing, president of European Garden Living, says, "Wayfair offers a diverse collection of quality products for the home and is considered the gold standard for online home decor shopping in the United States. With European Garden Living's product reputation for quality and more than 30 years of successful sales in Europe, we believe Wayfair is the perfect complement for us to reach a sophisticated clientele that expects the best."
European Garden Living
LLC sources product from a European manufacturer with over three decades of success who crafts unique, timeless, and chic garden décor and outdoor furniture from solid wood, including garden elements, decorative fencing panels, and planters. These products are best-sellers in 25 countries across Europe, and complement a range of decorating styles, from urban to rustic. Product is crafted from the highest-quality spruce from sustainably managed forests, which are replanted for future generations. This, in addition to the environmentally friendly treatment process, which renders the wood more durable and weather resistant, is kind to the earth, and has earned us an FSC certification by the Forest Stewardship Council. European Garden Living products are sourced from family-owned business with decades of experience in fine craftsmanship, and are renowned for attention to small details such as carvings, grooves, and artistic patterns, and meticulous attention to quality assurance during the manufacturing process. This ensures that your garden décor will not only look exquisite and express your personal style, but will also last for many years to come.
For more information, call (888) 895-WOOD or visit us online at egardenliving.com.
Contact
European Garden Living LLC
Michael Schwab
888-895-9663
egardenliving.com

Contact