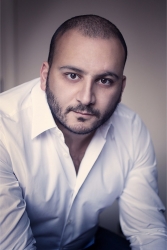 San Francisco, CA, November 24, 2017 --(
PR.com
)-- Elves App, Inc. (the popular Human Assisted AI Assistant) is delighted to welcome Mohammed Sabry aboard. Sabry joins
Elves
as a partner and CMO.
Sabry started his advertising career in BBDO after a successful career in event management and marketing. In BBDO, as regional director, he oversaw several key accounts and notable campaigns in the MENA region.
After he set up the Dentsu agency in Cairo, winning accounts such as Orascom Development, Credit Agricole, and Daihatsu, Sabry went on to lead JWT Egypt where notable campaigns included Vodafone "Shokran," Vodafone "Fakka" (winner of smartest campaign in the world by WARC, Gold, Silver, and Bronze in Cannes), The Egyptian Tourism Campaign that spiked record visitors to Egypt in 2010 "Where It All Begins," and many other award winning campaigns for marquis accounts. Sabry also set up JWT Entertainment and JWT experience further enhancing the groups integrated offerings.
He then moved to run JWT's head office in Dubai where he brought in the Coca-Cola GCC and Levant business, Bentley and Carrefour. During his tenure, the agency launched campaigns such as Damas Sama with Penelope Cruz, Coca-Cola's Euro 2016 campaigns, Kit Kat's Celebrate The Breakers, Nike "We Run Dubai," and the record breaking and Cannes winning campaign, "I Can Teach you too," for Dubai Cares.
Widely regarded as one of the most talented marketeers of our generation by his peers in the region, and a serial achiever, Elves App, Inc. is very excited by the prospect of what Sabry brings to the Elves team.