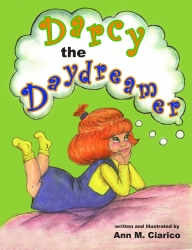 Killeen, TX, February 25, 2008 --(
PR.com
)-- American author and illustrator, Ann M. Ciarico, challenges other popular children's icons by introducing a new, more 3-dimentional character – Darcy The Daydreamer. This 40 page, colorful paperback picture book is published by Daydream Enterprizes. It can be found everywhere in bookstores as well as online including Amazon.com, Barnes & Noble.com and Lulu.com, the online marketplace for digital content. The book's reading level is for children from 7-9, but can be enjoyed by adults and children of all ages.
Ms. Ciarico fulfilled a burning desire to create a children's picture book back in 1997, using chalk pastel and ballpoint pen to illustrate her story. The book centers around an adorable red-headed little girl, whose everyday observation of life inevitably catapult her into exciting daydream adventures.
George Bernard Shaw once said, "You see things as they are and ask, 'Why?' I dream things as they never were and ask, 'Why not?.'" Darcy The Daydreamer epitomizes this concept in spades, as she encounters buried pirate's treasure and adorable Martians.
The book took 2 months from conception to completion in a 14"x17" sketchbook. Subsequently the worn sketchbook sat on a shelf collecting dust for five years. Ms. Ciarico realized she needed to share her masterpiece with the world. With her many years of experience as a graphic designer, Ms. Ciarico digitized and copyrighted the book in 2002. She spent long hours at the computer after her fulltime day job, scanning in the full color pages and reformatting it for press. After eight rejections from major publishers, Ms. Ciarico had little hope of telling the world about her little daydreamer.
Finally In 2008, Ms. Ciarico was able to make her long awaited dream come true. "At last I've found a place for Darcy, thanks to Lulu.com," Ms. Ciarico exclaimed, "Now she's available on 4 continents! My big dream is to give a portion of the proceeds to charity to help disadvantaged kids live a better life. I want to keep creating more books and hopefully I can make a difference in their lives. Darcy's just getting started on her adventures - there's many more to come! I want Darcy to become a children's classic, a timeless favorite among all children and adults."
###