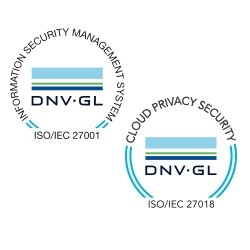 San Francisco, CA, November 28, 2017 --(
PR.com
)-- Konolabs (https://kono.ai), the AI powered scheduling service provider, has announced its successful achievement of its ISO/IEC 27001:2013 (ISO 27001), ISO/IEC 27018:2014 (ISO 27018) certifications after careful consideration by DNV GL. The certifications are the most widely recognized standard internationally for security control requirements within Information Security Management Systems (ISMS) and personally identifiable information (PII) in cloud.
The full scope of the ISO 27001 certification pertains to functions and services within the company's ISMS including fulfillment, legal services, software engineering, project management, IT services and security. Konolabs has also achieved compliance with what is formally known as ISO 27018, a standard specifically for the protection of PII within public clouds acting as PII processors.
"We're pleased to have achieved ISO 27001/27018 certifications as it underlines our commitment and focus on security and PII protection," said YJ Min, CEO of Konolabs. "It provides our customers with the reassurance that the service user's data is managed and held securely."
Since launched, Kono, its AI powered scheduling service on Sept. 2017, Konolabs has been providing its services based on Amazon Web Services (AWS) and started to support APIs (Application Programming Interfaces), email-bot and messenger-bot services. The company gets recognition from even large corporations in mainly Korea and Singapore and it plans to approach enterprise customers in US with its confidence for security & PII protection from next year.