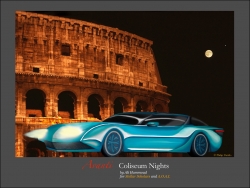 Detroit, MI, December 04, 2017 --(
PR.com
)-- Wolfgang Amadeus Mozart was an accomplished composer at age five; Ali M. Hammoud was drawing cars and well at age four.
Ali Hammoud not only loves to create. He lives to create.
Every school year from his seventh and eighth at Lowrey Junior High to his four years at Fordson High School in Dearborn, Ali has been cited as an exemplary student. On four of those letters of citation, the name of the College Creative Studies in Detroit has been specifically named. The College has an esteemed reputation because its curriculum is taught by successful professionals, active or retired, in their chosen fields, from car design to marketing to video game design.
Four of the major winners in the Stellar Scholars Avanti Awards competition, Florin Blebea, Evan Pipta and Eliot Erlander have won full-ride scholarships to CCS. Blebea (two-time Summa Champion) now works as a full-fledged designer and clay modeler for Tom Peters, Head Designer on the wildly successful. retro Camaro and the last two generations of Chevrolet Corvettes.
Points out Ashley Sword, Stellar Scholars Executive Creative Director: "What makes Ali's Stellar Scholars commission so impressive is that his design is showcased within a 'story' painting, until now reserved only for professional car painters of the talent and commensurate financial reward of the likes of the late Don Wieland and his close friend and fellow illustrative associate Tony Randazzo."
For Ali M. Hammoud, the future is clear.
It is as bright as a shooting star in the sky behind Stellar Academy of Terra Summit, USA in Stellar Scholars science fiction series published by New York-based Royal Fireworks Press, the leading publisher of reading fare for gifted and home-school students.
Ali has driven the dreams of Star High sky high with his "Neo Avanti" and Stellar Scholars anxiously awaits what's "NXT" from the young prodigy.
Stay tuned!