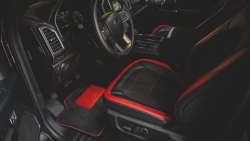 Calhoun, GA, December 07, 2017 --(
PR.com
)-- The Holiday season is here, which means gift-giving season is in high gear. GGBAILEY.com has a variety of car and trunk mat options for most automotive makes and models.
GGBAILEY offers the highest quality, custom-fit car mats with a wide variety of designs available, including:
· Design Your Car Mats™: Choose from an assortment of 20 oz. Carpet Colors, Edging Styles (Binding or Serging), Heelpad Styles (Round or Rectangular) and Personalized Embroidery featuring initials or names in a wide array of colors. Starting at $70
· Luxury Mats - Car Couture™: Plush 70 oz. carpet available in eye-catching Red and Black Oriental or Animal designs (Zebra or Leopard). Starting at $99
· Classic Loop Carpet: For the driver that prefers a more traditional and vintage-style look, we offer this 20 oz. carpet in Beige, Black and Grey. Starting at $64
Customers can utilize GGBAILEY.com's easy-to-use Virtual Mat design tool, making the customized process simple and allows you to see and change your custom car mat design throughout the process.
GGBAILEY is a RACEMARK International company, a Tier 1 certified global supplier of car mats to all automotive brands. All GGBAILEY car mats are made to custom-fit your vehicle and will protect and make your interior look great.
For over 55 years, RACEMARK International and GGBAILEY have been a family owned and operated business designing and manufacturing high-quality products produced here in the United States and Europe.
To receive your order by Dec. 22nd please place by:
* Dec 15th - Free Ground Shipping
* Dec 18th- 3-Day Shipping
* Dec 19th – 2-Day Shipping
* Dec 20th - Overnight Shipping
* Dec 25th - Gift Certificates
About GGBAILEY
GGBAILEY is a RACEMARK International company, which includes four manufacturing plants in the United States, Germany, Hungary and Switzerland. Our OEM-certified plants are dedicated to the production of the finest automobile floor mats in the world, supplying all brands in the automotive industry. In 1970, we were the first floor mat company to create a custom-fit textile car mat, and the first company to introduce CYCLEBAC® – a 100% recyclable floor mat. Our family owned and operated business includes more than 55 years of devotion to the finest automobiles and accessories in the world. RACEMARK International founder, Bob Bailey, a former world-class racecar driver for Porsche of America Racing Team, continues to be actively involved in all aspects of the automotive world, from collecting classic cars to vintage auto racing. As a leading tier one supplier, our creative, entrepreneurial team of auto enthusiasts is dedicated to making the best car mats and accessories in the world.
GGBAILEY - Function + Design
Contact:
Emily Bailey
ebailey@racemark.com
917-647-8094