Barbara Anne Rose Honored on the Reuters Billboard in Times Square in New York City by Strathmore's Who's Who Worldwide Publication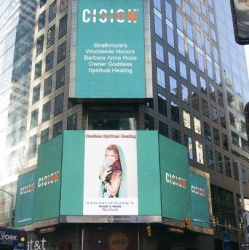 Newark, DE, December 09, 2017 --(
PR.com
)-- Barbara Anne Rose of Newark, Delaware has been honored on the Reuters Billboard in Times Square in New York City by Strathmore's Who's Who Worldwide for her outstanding contributions and achievements for over 20 years in the field of healing.
About Barbara Anne Rose
Barbara Anne Rose is the Owner of Spiritual and Emotional Healing, an international healing and wellness practice based in Delaware. She serves as a coach, public speaker, trainer, healer and consultant. She is also a successful author, entrepreneur, mother, fitness model and an inspiration to hundreds. Barbara is responsible for coaching, counseling, mentorship programs, workshops, spiritual healing and emotional healing. Her personal journey is one of resolve, recovery, redemption and restoration through sexual abuse, domestic violence, a psych ward and a women's shelter, to insight and inspiration which culminated in finding her own self and her spirit in forgiving her abusers. Barbara believes in helping the entire person – Mind, Body and Spirit.
In her focus on the Mind, Barbara is a successful coach, mentor and consultant to high-potential and successful directors, vice-presidents and managers seeking to take their relationships and lives to the next level. She believes that people are more than numbers, metrics and focus groups. She guides individuals in successful habit formation and problem resolution. She empowers them with tools for positive thinking, intuition, focus, reflection and problem solving.
In her focus on the Body, Barbara is a successful Director of Fitness, Certified Personal Trainer, Certified Nutrition Consultant, Physical Therapist technician, health educator, and group and television fitness instructor. Because she believes touch is an important part of healing, she also uses her expertise as a Licensed Massage Therapist with modalities including Deep Tissue, Swedish, Thai Yoga, Tantra and Chakra Balancing. She provides massage therapy and teaches massage therapy individually and in her workshops.
In her focus on the Spirit, Barbara is a successful personal guide, spiritual coach, couples relationship and communication therapist and Tantra teacher. She is a motivational inspirational speaker for those who are interested in changing their lives for the better, generating freedom for individuals suffering from pain and trauma. She also conducts intensive weekend workshops for men, women and couples to better understand themselves, the opposite sex and their relationships including addressing difficult issues like trauma, addiction, sexuality and intimacy.
Barbara has conducted numerous speaking engagements, radio interviews, podcasts, author interviews, LinkedIn Pulse articles and can be seen on the YouTube channel. She also can be reached through LinkedIn, Facebook, Google+, Pinterest and Twitter. Her book, "Angel Works: Soaring From Abuse to Love, Forgiveness and Enlightenment" addresses her own journey to discovering her spirit, her personal Angel, and insight.
Barbara has extensive education and training in her specialties. She attended the National Personal Training Institute from 2001-2002, PACE Instructed in 2004 and completed the AFPA Weekend Seminar in 2006. She is current CPR Certified. She attended the Academy of Massage and Bodywork and was certified in 2008 and was licensed 2009. Barbara is Thai Massage Certified through Vedic Conservatory with Michael (Mukti) Buck. She was taught under Tantra teachers Charles Muir and Leah Alchin and was taught under sex therapists Susan Kaye, Ph.D. and Tova Feder, Ph.D. She attended the N.P.T.I National Personal Training Institute and became a Personal Trainer and Nutritional Consultant in 2002. Barbara attended the D.I.T.S. Dowell Institute of Theological Seminary and earned her designation as a Doctor of Christian Counseling in 2015. She completed Strategic Intervention Coach Training under Mark and Magali Peysha in 2016.
As the director of fitness for Greenhouse International, Barbara overlooked all aspects of The Bean infomercial for the East coast. Between 1999 and 2005, she was a successful bodybuilding, swimsuit and figure competitor and used her own experience and struggle to inspire others. She is a lifetime member of the American Institute of Holistic Health & Wellness - A Minds Inspired New Dynamics System, Holistic Alternative Psychology Master Counselor Association and is a member of the Lightarian Institute. Barbara supports Hope for Vets which was created by Kevin Taylor to help survivors of PTSD.
"To truly love, one must need to forgive. To truly forgive, one must have love for another. This love is Divine Love." -Barbara Anne Rose
For further information, please contact www.thespacebetweenthethorns.com.
About Strathmore's Who's Who Worldwide
Strathmore's Who's Who Worldwide highlights the professional lives of individuals from every significant field or industry including business, medicine, law, education, art, government and entertainment. Strathmore's Who's Who Worldwide is both an online and hard cover publication where we provide our members' current and pertinent business information. It is also a biographical information source for thousands of researchers, journalists, librarians and executive search firms throughout the world. Our goal is to ensure that our members receive all of the networking, exposure and recognition capabilities to potentially increase their business.
Contact
Strathmore Worldwide
Susan Perrault
516-677-9696
www.strathmoreworldwide.com
Syndi Reibman

Contact