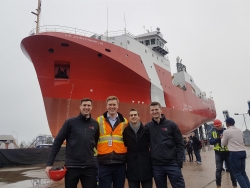 Toronto, Canada, December 13, 2017 --(
PR.com
)-- Isaac Operations was pleased to join Seaspan Shipyards on December 8, along with the Government of Canada, and the Canadian Coast Guard to celebrate the launch of the first large vessel to be designed and built under the National Shipbuilding Strategy (NSS).
Isaac was thrilled to be a part of this program, working hand in hand with Seaspan to improve the performance of the program. Isaac's support began in 2012 – supporting the team in mapping the new processes and planning the capacity. Through 2014 to 2017 Isaac worked with Seaspan personnel in Planning, Engineering, Supply Chain, and Operations to accelerate the learning curve by systematically identifying opportunities and implementing solutions.
"The team at Seaspan show a strong commitment to continually improving performance," noted Nick Boragina Vice President at Isaac Operations. Working together with suppliers, hundreds of initiatives were completed with results improving schedule and cost performance. This first of class vessel is a remarkable achievement for Seaspan and for the industry - as the first large non-combat ship designed and built under the NSS.
"Isaac Operations has made an incredible contribution to our efforts to build the next generation of non-combat ships for the Government of Canada," noted Brian Carter, President & CEO of Seaspan Shipyards. "Isaac's role in this program demonstrates the importance of innovation and constant improvement in building a sustainable shipbuilding industry here in Canada."