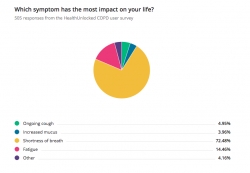 New York, NY, December 16, 2017 --(
PR.com
)-- New research has revealed the main symptoms bothering and impacting people living with COPD - chronic obstructive pulmonary disease - and interestingly what caused them to develop the condition in the first place.
COPD is the name given for a group of lung conditions that causes breathing difficulties. Whilst currently incurable, it is possible for COPD to be managed. The lung condition is the third leading cause of death in the United States, with 11 million people diagnosed with COPD and millions more thought to be living with the disease without even knowing it.
It is associated with four main symptoms: an ongoing cough, increased mucus, shortness of breath and tiredness. This new research has revealed the extent to which people with the chronic lung disease suffer these symptoms and impacts on their lives. Management of these symptoms is crucial in stopping unnecessary hospital attendances and doctor appointment.
Shortness of breath (72%) was by far the most common symptoms that people reported living with, followed by tiredness (14%).
Unsurprisingly, most people cited smoking at the cause of their COPD (62%), however people also stated workplace fumes (5%), air pollution (3%) and even sawdust (2%). Nearly 20% of people stated 'other' as the cause (See full results https://healthunlocked.com/copd).
Dr. Matt Jameson Evans, chief medical officer at HealthUnlocked, said, "COPD can be a debilitating condition and understanding and managing your symptoms is key to living a healthier and happier life, with less hospital admissions."
The survey was completed by members of health network HealthUnlocked (https://healthunlocked.com/copd). You can find more information on the condition, details on the symptoms, further data and speak directly to other people with COPD on HealthUnlocked.
For more information contact:
Alexa Chaffer, Head of Communications
alexa.chaffer@healthunlocked.com
Notes for editors:
The survey was filled in by 608 people.
The full data is available here: https://healthunlocked.com/copd
About HealthUnlocked https://healthunlocked.com: The HealthUnlocked platform is becoming an increasingly popular social network, with growing numbers of users and traffic each month. It uses technology and AI to connect and bring people together with the same health conditions, where they share experiences and answer each other's questions on the disease or condition, within more than 700 online health and wellbeing communities, across more than 200 different health conditions.