United World Infrastructure Presents Urban Innovation to Impact Workplace Happiness Aligned with UAE Vision 2021 at International Conference on Happiness
Senior Manager, Aubrilyn Reeder, from Dubai-based United World Infrastructure, described the role that urban development has on workplace happiness at the city level, neighborhood level, and building level. Like the UAE, Bhutan is a global leader in advancing happiness objectives through national initiatives.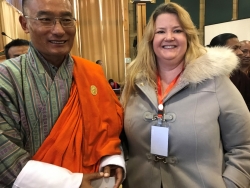 Dubai, United Arab Emirates, January 03, 2018 --(
PR.com
)-- During a recent presentation at the International Conference on Gross National Happiness (GNH), held in Thimpu, Bhutan, United World Infrastructure (UWI), based in Dubai, emphasized the impact city development can have on happiness at work. Workplace happiness and positivity is a key pillar supporting the national agenda, UAE Vision 2021, to improve happiness and positivity in UAE society. Bhutan and, more recently, the UAE have been at the vanguard of a movement to address happiness objectives at the national level.
The conference, entitled GNH of Business, explored ways for advancing GNH through the private sector. Presentations included novel approaches businesses could adopt to improve happiness within workplaces, communities, and end-user markets. The conference attracted global leaders in psychology, academia, economics, government, and business including representatives from the World Bank, University of California at Berkley, Ernst & Young, University of Texas, University of Melbourne, Asian Development Bank, and the UNDP.
His Excellency Prime Minister Lyochhen Dasho Tshering Tobgay delivered the opening address, emphasizing the importance of financial and social returns, and introduced Bhutan's proposed GNH of Business Framework, which will certify businesses addressing GNH in their operations.
"Today's consumers, in increasing numbers, hold companies to higher standards and look for more than just material products or quality services when choosing a company to work with," said HE Prime Minister Tobgay. He continued, "In the current business model, if an arrow hits the bullseye on a target, the bullseye considered a profit, it is considered a success. That is the end goal. The GNH certification [for businesses] will shift the business to a new model in which the arrow will hit, not necessarily only the bullseye, but many different parts of the target."
Bhutan released its inaugural GNH report in 2005, making it the first country to effectively transform national happiness from an abstract concept into an actual measurement to drive policy-making, and is considered a leader in this sector. The annual conference is organized by the Centre for Bhutan Studies & Gross National Happiness (CBS & GNH), established by the Royal Government of Bhutan in 1998. Its work inspired UN Resolution 65/309, introduced in 2011, inviting member states to consider happiness and wellbeing objectives in governance.
Speaking at the conference, Aubrilyn Reeder, Senior Manager, outlined UWI's approach to facilitating happiness through urban development, and touched upon the organization's landmark Medini project in Malaysia – first announced in 2008 at Cityscape Dubai – which has generated over 20,000 jobs for local citizens and attracted USD 1.2 billion for land development. She highlighted the key role livelihoods play in personal fulfillment and life satisfaction and the role of urban development in supporting these outcomes.
"People want to live in cities because they provide opportunities – diverse livelihoods, access to markets, higher-quality education and healthcare. The UAE has experienced an 11,500% increase in its urban population since 1960," Reeder shared. "As investors and developers in urban infrastructure, we can enhance workplace happiness and wellbeing through environments that support diverse job creation, improved physical access to these jobs, and transparent standards for the built environments within workplaces."
Since appointing Her Excellency Ohood Al Roumi to Minister of State for Happiness in the UAE almost two years ago, the UAE has emerged as another global leader in happiness. Since then, the nation has hosted the inaugural Global Dialogue on Happiness as part of the World Government Summit in Dubai with experts from psychology, economics, urban planning, and policy. On March 20, the 2017 International Day of Happiness, the UAE launched the World Happiness Council which will share its first report on global happiness policy at the 2018 summit.
"Bhutan and the UAE are bringing happiness and wellbeing research from academia to national decision-making. The last 10 years have seen a boom in interest in these measures which, at one time, seemed too abstract or personal to be able to drive governmental decisions," Reeder added. "Now, with global conferences like GNH of Business and the Global Dialogue on Happiness, we are witnessing new and innovative ways to improve happiness and wellbeing through public and private sector initiatives and there is growing evidence that this benefits not only social and environmental objectives, but economic ones as well."
About UWI:
Operating globally, United World Infrastructure (UWI) invests in the acquisition, development, and management of real-estate and infrastructure assets to stimulate economic growth, technology transfer, and foreign direct investment. Committed to people-centric communities, UWI transforms underutilized land into real-estate assets that attract development catalysts such as theme parks, hospitals, and schools. Its infrastructure assets for new cities include: road networks, water and drainage systems, sewage systems, electricity, telecom networks, and systems for renewable energy and recycling to ensure environmental sustainability. UWI's financial products, including yield-driven development models and infrastructure and commercial concessions, optimize returns to city investors. UWI also offers advisory services to governments and government-linked entities to advance the development of happier cities through measurement and targeted policy, infrastructure, and service recommendations.
Contact
United World Infrastructure
Zil Savla
+9714057777
www.uwi.com

Contact