Jefferies Goes Live with Percentile for Risk Reporting and Analysis
Jefferies, the global investment bank, has gone live with London based Percentile's RiskMine Cube software for firm wide Market Risk and Credit Risk aggregation and reporting.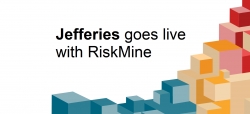 London, United Kingdom, January 10, 2018 --(
PR.com
)--
Percentile
, leading innovator in risk management and RegTech, today announced that Jefferies, the global investment bank, has gone live with Percentile's RiskMine Cube software.
Jefferies & Company, Inc., the global investment banking firm continues to enhance its global risk technology infrastructure delivering cutting edge tools to its end users in Risk Management. Michael Schulz, Chief Risk Officer for Jefferies International, noted "RiskMine Cube has allowed us to rapidly incorporate both market and credit risk and enabled our risk managers to slice and dice significant amounts of data. This in turn has facilitated a more efficient analysis and investigation of the Firm's risk profile. The introduction of new risk attributes and measures is now a simple matter of a configuration change."
Anthony Pereira, CEO of Percentile, said: "We're delighted that Jefferies recognised the expertise of the Percentile team and the ability of our software to enhance their growing risk infrastructure. Percentile's team worked closely with Jefferies Risk and IT teams to deliver both Market Risk and Credit Risk in-memory aggregation and reporting, on time and on budget."
RiskMine Cube simplifies the creation and management of large in-memory multi-dimensional data sets. By quickly integrating into multiple sources of risk and exposure data, RiskMine Cube provides a robust, flexible and scalable platform for fully governed risk aggregation and reporting. The automation also reduces the maintenance burden for IT teams in developing risk reports.
Pereira added: "Risk Management teams in most banks are facing constantly growing demands from the business and regulators for more granular, frequent and, above all, insightful risk analysis. New regulations add to the significant burden of data management and reporting for Risk teams. With RiskMine Cube, Jefferies is taking proactive steps to lay down the infrastructure required to easily handle today's requirements and scale with future demand."
About Jefferies
Jefferies, the world's only independent full-service global investment banking firm focused on serving clients for over 50 years, is a leader in providing insight, expertise and execution to investors, companies and governments. The firm provides a full range of investment banking, sales, trading, research and strategy across the spectrum of equities, fixed income and foreign exchange, as well as wealth management, in the Americas, Europe and Asia. Jefferies Group LLC is a wholly-owned subsidiary of Leucadia National Corporation, a diversified holding company.
About Percentile
Percentile is a London based provider of technology for risk management and regulatory compliance to the financial markets. Percentile's flagship product, RiskMine, drives alignment between trading desks and risk management and delivers confidence with unprecedented levels of transparency and governance around risk data. RiskMine is the result of over a decade of innovation at an investment bank and driven by demanding risk managers, providing the single source of truth for risk. Percentile's technology is designed for fast integration into existing environments, boosts the performance of risk calculations and provides consistent and centralised access to all risk exposures. RiskMine can be delivered on-premises or fully hosted in the cloud.
For more information visit
http://www.percentile.co.uk/cube
Contact
Percentile
Anthony Pereira
+442037455595
www.percentile.co.uk

Contact
Multimedia
Jefferies, the global investment bank, has gone live with Percentile's RiskMine Cube software for Market Risk and Credit Risk aggregation and reporting.