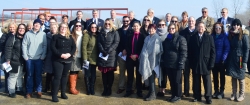 Madison, WI, January 30, 2018 --(
PR.com
)-- Stakeholders holders and city officials broke ground at the new Lions Eye Bank of Wisconsin (LEBW) facility at 5003 Tradewinds Parkway, in Madison Wisconsin, on Thursday, January 25.
Lions Eye Bank of Wisconsin, Executive Director, Darice Langham, kicked off the ceremony by describing the impact LEBW has on the community "2018 is not only an exciting year for us because we will be occupying this new facility, but it marks our 50th year serving donors, their families, and transplant recipients." LEBW is on pace to serve more than 1,200 donors and families, fiscal year 2017-2018, and expect to place more than 1,700 corneas for transplant, research and education.
LEBW was honored to have Deputy Secretary Eric Esser, Department of Safety and Professional Services, and Dr. Neal Barney, Department of Ophthalmology and Visual Sciences as guest speakers. Also present was Secretary Jay Risch, Wisconsin Department of Financial Institutions, representatives from UW Organ and Tissue Donation, and RTI Donor Services, several Wisconsin Lions Club members and other various stakeholders.
In addition to daily operations, the new 14,000-sq. ft. facility will allow for expansion of services to benefit professionals dedicating their lives to the vision impaired. The facility will also house wet lab training space, and act as a resource for ocular surgeons to learn new procedures, and perfect their techniques prior to performing procedures in the operating room, "The partnership between LEBW and the Department of Ophthalmology and Visual Sciences will drive research, teaching, and improve the care of patients," said Dr. Neal Barney.
Lions Eye Bank of Wisconsin has doubled in size over the past few years, currently employing approximately 40 staff. Much more growth is expected over the next 5 years, as we expand our services, providing more job opportunities for Wisconsinites. "The new facility will allow for more growth, and will facilitate better work flows and greater efficiencies," said Langham.
Lions Eye Bank of Wisconsin is a non-profit 501(c)(3) organization dedicated to restoring sight through the recovery and transplantation of corneal tissue. LEBW provides more than 99% of Wisconsin's corneal tissue for local transplant surgeons; no cornea leaves the state until every Wisconsin patient's needs are accounted for. Every step of the donation process committed through LEBW is 100% non-profit, from recovery to transplant. The altruistic spirit of the gift of donation is always protected and handled with the utmost respect under our care. LEBW has become one of the highest performing eye banks in the nation over the past several years, something Wisconsinites can take pride in.