Escalera CD Release Party March 8th @ Belly Up Tavern - Danny Way, Bob Burnquist, and Ananda Moorman's Band Escalera Release First Album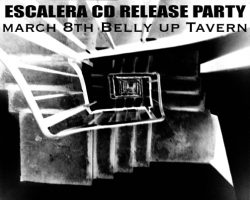 San Diego, CA, February 28, 2008 --(
PR.com
)-- Escalera Performance & Album Release Party
Featuring Danny Way and Bob Burnquist
March 8, 2008
Belly Up Tavern (858) 481-8140
143 S Cedros Ave _Solana Beach, CA, 92075
Escalera, featuring Danny Way and Bob Burnquist, is hosting their first album release party and performing on March 8th at the Belly Up Tavern in Solana Beach, CA. Escalera are Ananda Moorman on vocals / guitar, Danny Way on lead guitar, Casey Gee on keys / vocals, Bob Burnquist on percussion, Jason Mueller on bass.
Escalera began when Danny and Bob put their competitive spirits aside and found they were playing music whenever they weren't skating MegaRamp together. They first met cinematographer Ananda Moorman during the filming of Danny's groundbreaking DC Video finale. Initially brought together by their love of skateboarding, the three of them soon found themselves jamming music. These jam sessions eventually moved to Bob and Danny's living rooms, and ultimately led to the construction of a practice / recording facility. After nearly a year of juggling extensive careers, travel and family time, their collaborative efforts led to the recently completed self-titled debut album Escalera.
Escalera can be described as an eclectic blend of laid back feel-good rhythms infused with raw metallic riffs. Musically they mix both acoustic and electric guitars with Rhodes keys, backed by hand percussive rhythms and soulful bass lines. Their influences range from The Police to Zero 7, G Love to Pearl Jam.
Much more than just a side project, the members of Escalera embrace a rich musical heritage spanning over four decades. Danny comes from three generations of guitarists before him, his father being a professional musician who recorded and toured extensively in the 70's as a member of Glass Whip. Bob credits his father Robert, also a professional musician by trade, for instilling in him a diverse musical palate. Ananda's father, Robert Moorman, shared the mic with Bob Dylan and Janis Joplin during their formative years. Robert and his wife, Ananda's mother Timmaris, were the original founding members of Elephant's Memory, which went on to open for John Lennon and Yoko Ono. Ananda has been performing in front of live audiences since Jr. High, when he was a regular on the San Diego coffee shop circuit. Visually as well a musically artistic, Ananda also is the Director of Photography for the music videos "Life Wasted" by Pearl Jam (nominated for an MTV Video Music Award), "No Such Thing As Nothing" by Chris Cornell, "Shoulda Known Better" by Unwritten Law, and surfer Taylor Knox's documentary "Medication".
Escalera have previously played live with Switchfoot, Jason Mraz, Nickel Creek, Timmy Curran, Tom Curren and Todd Hannigan.
Escalera will be appearing on FM 94.9 with Tim Pyles on March 2nd at 8 PM. They will also be performing live on Fuel TV's "The Daily Habit", on March 13th (Airing Date TBD).
For music, video, photos and more info on Escalera visit
http://www.myspace.com/escaleramusic
Contact & Information: Darryl Franklin / Robyn Denton
Cell: (818) 231-1182 / (858) 204.-9815
Email: office@garageindustries.tv / Robyn_denton@hotmail.com
###
Contact
A-nanda.com
Robyn Denton
858-204-9815
http://www.myspace.com/escaleramusic

Contact
Multimedia
Escalera CD release Party March 8th @ Belly up Tavern - Danny Way, Bob Burnquist , and Ananda Moorman's Band Escalera release first Album