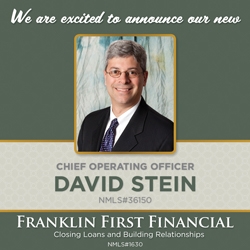 Melville, NY, February 01, 2018 --(
PR.com
)-- Franklin First Financial. Ltd. (
www.franklinfirstfinancial.com
) announced today that David P. Stein has joined their growing firm as their new Chief Operating Officer, responsible for overseeing all areas of operations within the company.
A 22 year veteran of the mortgage industry, David Stein brings decades of experience and knowledge to his new role. Mr. Stein was a founding partner at The Mortgage Corner of NJ. In 2005, The Mortgage Corner merged with Residential Home Funding Corp., headquartered in NY/NJ. There he held the positions of Chief Operations Officer and Partner, and most recently after relocating to South Carolina he was named Executive Vice President of Business Development for the Southeast region of RHFC.
"We are excited to welcome David Stein to our Franklin First Financial Family," says Fred Assini Founder and CEO. "As we enter our 25th year in business, David will be instrumental in streamlining our operations and effectively managing our growth so that we can achieve our goal of doubling our production this calendar year."
"I am excited to join the team at Franklin First Financial," says David. "I look forward to helping shape the company for the next 25 years. We will use cutting edge technologies and systems to help retain and recruit the best originators and operational staff throughout the United States. I am eager to start working with each and every person in this fine organization and want to thank Fred for his trust and confidence in me to help build his company to new levels."
About Franklin First Financial, Ltd.
Founded in 1993, Franklin First Financial is a residential mortgage bank based out of Melville, NY. The company is a direct lender licensed in 40 states. Franklin First Financial offers mortgage solutions for all types of borrowers and credit portfolios from Conventional Mortgages to FHA, Reverse Mortgages, and Non-QM loans. Having added 18 new branches on the East coast this past year, Franklin First Financial is committed to systematically growing the company while retaining their small business, family-style culture. The company prides itself in offering quality mortgage solutions at competitive rates, with an unwavering commitment to customer service.
For more information please contact
Janet Orozco Feller
Director of Marketing
538 Broadhollow Road
Suite 401
Melville, NY 11747
631-393-7536
jfeller@fffmtg.com