Ben Dunham Partners with Award-Winning Songwriter Dave Gutter on New Single, Talkin' Down
Produced in the Halo Studio of Portland Maine, Ben Dunham and Dave Gutter come together to create a raw and gritty duo on this exclusive track.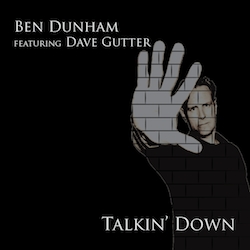 Montpelier, VT, February 12, 2018 --(
PR.com
)-- Producer and musician Ben Dunham announced today the release of his single, "Talkin' Down," on Friday, February 16, 2018. The exclusive release party will be hosted at Sweet Melissa's, 4 Langdon Street, Montpelier, Vermont, at 9:30 p.m. The release party will feature original live music and is open to the public. More information on the venue can be found here: www.facebook.com/events/190286301552235/
Recorded at The Halo Studio in Portland, Maine, "Talkin' Down" was written by Dunham with vocal collaboration from Dave Gutter, the frontman of Rustic Overtones, a psychedelic rock band out of Portland, Maine. Dunham's partnership with Gutter began after he received a stylistic comparison to the artist during the promotion of his latest album, The Backline Collective, which was released in July of 2017.
The punchy, polished track comes in just under four minutes and captures raw, dark emotions. According to Dunham, "The single was inspired by how our thoughts and words carry more weight than we may realize and how people's personal struggles often make it easier to bring others down."
Beyond partnering with 13 artists on his first album, Dunham has worked and toured with an impressive roster of musicians, such as the hip-hop funk band Dysfunkshun, Madou Dembele, and now Dave Gutter. He hopes to keep the collaborations coming in his second album, a continuation of the Backline Collective, which will be released later in 2018.
On his partnership with Gutter, Ben said, "I have been a big fan of Dave for a long time now, so I was excited to get to partner with him on my newest single. Dave has worked with many big names like Bowie, Aaron Neville, Gramatik, and Eric Krasno. For him to take the time to work with me was incredible, and I think our hard work comes through in the single."
Dunham's single will be available on Reverb Nation www.reverbnation.com/bendunham
About: Ben Dunham started his music career as a teenager, playing in bars and local hotspots. Anchored by a love for the bass, Ben enjoys composing music and lyrics and has contributed to many bands throughout his career. He continues to play in several bands throughout the Green Mountains of Vermont and beyond, and knows no bounds when it comes to genre.
Contact
Ben Dunham Music
Tommy Burns
802-497-7456
www.bendunhammusic.com/

Contact