The Dragon Institute Selected as "Best Martial Arts in Dana Point" for 4th Consecutive Year
The Dragon Institute has been chosen best martial arts school in Dana Point in the Dana Point Times' 10th Annual People's Choice Lantern Awards. This marks the 4th consecutive year which The Dragon Institute has been awarded this distinction.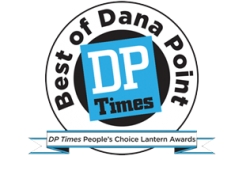 Dana Point, CA, February 07, 2018 --(
PR.com
)-- The Dragon Institute, a
Dana Point martial arts school
, this week received distinction as the Best Martial Arts Studio in Dana Point for the fourth consecutive year.
The school was awarded the Golden Lantern as the top martial arts studio in the city in the Dana Point Times' 10th Annual People's Choice Lantern Awards.
Committed to the entire martial arts practice and way of life, The Dragon Institute looks at mental, physical and nervous system development. Known specifically for world-class Wing Chun instruction, The Dragon Institute is one of the few places in the entire world that provides access to that type of martial arts.
"For the last 23-years of my life, I have dedicated myself to practicality and efficiency in everything I do. This discipline has enabled me to be totally dedicated to the development of our students here at The Dragon Institute," said Sifu Adam Williss, Founder of The Dragon Institute. "We are honored to have received another best martial arts distinction for our operation in Dana Point this year."
The Dragon Institute provides classes for both adult and children patrons. Home to two
Orange County Wing Chun Schools
, their institutions give locals from both north and south Orange County access to their award-winning martial arts classes. To date, The Dragon Institute's student body consists of over 150 martial arts students, trained for self-improvement in every area of their lives. Their martial arts program is internationally accredited and recognized annually for its attentiveness to detail and comprehensive support.
"As we tell our students, regardless of their previous experience before joining, to brace themselves for an entirely new level of depth, insight, and application," said Williss. "That's the Dragon Institute guarantee. We look forward to a full year of development, practice, and commitment in the art of martial arts."
For more information, visit: http://www.ocwingchun.com.
Contact
The Dragon Institute
Elisabeth Williss
949-533-6587
http://www.ocwingchun.com

Contact