Hiney Underwear is Here to Change the Game. And Your Delicates.
Hiney, a men's subscription box, delivers fresh boxer briefs directly to your door as often as you need them at a great price.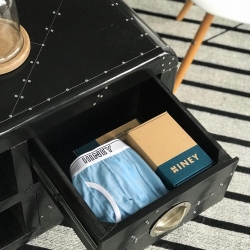 Portland, OR, February 20, 2018 --(
PR.com
)-- The enigmatic disappearing sock and the over-worn, holey underwear are the two recurring challenges that dudes face on laundry day, week after week. However, after launching last week, Mack Olsen and Brady Harrison of Hiney Underwear have solved one of these issues and might just be working on a solution for the other. The founders say that the opportunities for their startup are endless but they have started with a $9 boxer brief subscription.
Harrison said "When we were thinking about starting a business, we thought 'what's a problem that guys like us deal with?'...Guys just over wear their underwear way too much. It's nothing but a (waste)band at the end...There is another company that's focusing maybe 50% of their business on subscriptions but they're doing it for almost double the price. So, we wanted to solve that issue at a price that guys like us could afford."
Neither founder would attest to having a lifelong dream of being in the underwear business or even going into business together. The two didn't even know each other until two years ago after striking up a conversation in a Phoenix coffee shop where the two were attending Grand Canyon University. After building a crowdfunding business and even winning a business pitch competition for the idea, the partners were still skeptical about the landscape of that industry and began talks of a major pivot. At 2 AM in a Portland diner and with a cocktail napkin as a brainstorming canvas, the two decided to go into the underwear game. The rest, as they say, is history.
Hiney encourages standard hygiene procedures but cannot be held accountable for customers that refuse to wear any other underwear after trying their product.
"These things are freaking rad. Have been wearing mine a week straight!" – Alex Brookover, Satisfied Customer
Headquartered in Portland, OR, Hiney Underwear is committed to keeping fresh underwear in their subscribers top drawer. The problem of over worn underwear is driven by a combination of awkward underwear shopping experiences and guys inability to find a premium pair at an affordable price. The company offers premium boxer briefs at refreshing prices and delivers them directly to your door.
If you would like more information about this topic, please contact Brady Harrison at 907.887.4005 or email at brady@hiney.club
Contact
Hiney Underwear
Brady Harrison
907-887-4005
www.TryHiney.com

Contact