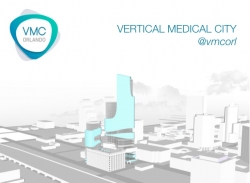 Orlando, FL, February 22, 2018 --(
PR.com
)-- PONTE HEALTH, P.A. Lead Architect and Founder of VERTICAL MEDICAL CITY is seeking a Qualified and Experienced Architecture Firm to join the Design Team.
VERTICAL MEDICAL CITY, currently under FAA review for use of airspace and entering Master Planning with the City of Orlando, will contract the selected Firm to help with the Architecture Professional Services of the approximate 2 million SF building complex, for a Start of Construction projected for July 1, 2019.
VMC ORL will be seeking a LEED Platinum Certification.
The VMC ORL Design Team, although no firms are yet under contract, includes PONTE HEALTH, P.A., Paul J. Ford, TLC Engineering, Jensen Hughes, Stack Rock Group, The Spinnaker Group, and M2O Technologies.
Architecture Firms that wish to be considered should submit 5 Hardcopies and 1 Digital Copy of their Qualifications Package, by Friday March 9 2019, to:
PONTE HEALTH, P.A.
Att : T.Ponte, AIA
Ref : VMC ORL
6555 Sanger Road Suite 111
Orlando Florida 32827
Email : VerticalMedicalCity@icloud.com