Lyons Roofing Urges Homeowner Beware; Door to Door Handyman Rarely a Good Deal
It's that time of year again. Homeowners in Arizona are being bombarded with door to door salesmen getting paid for services that are never completed.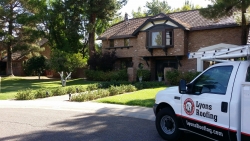 Phoenix, AZ, February 22, 2018 --(
PR.com
)-- Lyons Roofing has received a recent barrage of calls from homeowners who have fallen for this scam. Customers shared with Lyons that these handymen first offer to sweep their roof for a nominal fee. Then once the handymen are on the roof they come down and try to sell repair services for cracked tiles, split shingles, etc. Customers have called Lyons Roofing because their roof is under warranty and once their roof is inspected, not only are there no problems as described, but the roof has not even been swept.
It is unfortunate that homeowners need to have a buyer beware mentality in their own home, but in fact they do. Of course in each of these cases, when the homeowner asks to be shown the roof issues, the problems were always in an area not visible from the ground. These scammers prey upon folks seemingly not likely to climb up on the roof to inspect the issue or the services provided.
Lyons Roofing urges property owners to call a licensed roofing contractor to perform all roofing work.
Lyons Roofing has provided a detailed guide to assist property owners in choosing a licensed roofing contractor in Arizona. Visit www.lyonsroofing.com
Contact
Lyons Roofing
Ann Pepper
602-276-5515
www.lyonsroofing.com
Tucson Office: 520-300-5353

Contact