m.e.t.a.l.® Law Group, LLP Kick Starts Their 15 Years of Service with Office Expansion and New Staff
Powerhouse Attorneys at Los Angeles Law Firm Expand Services to West Hollywood and Downtown L.A.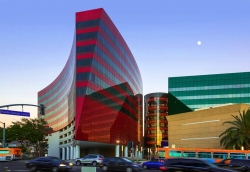 Los Angeles, CA, February 26, 2018 --(
PR.com
)-- "As we entered our 15th year of service, we knew accessibility and expansion of services for clients was a crucial step in growing our firm." -John W. Fagerholm, Esq.
m.e.t.a.l.® Law Group, LLP
, one of the top boutique law firms in Los Angeles, has announced that it has restructured the firm into two locations to better segment its current client offerings.
Its new Downtown LA office will serve clients in need of services related to Employment Defense and Business/Commercial Litigation. The new West Hollywood office will service clients seeking Entertainment, Corporate/Limited Liability Company, and Intellectual Property transactional legal services.
Notable highlights from the past year include:
- Settled a myriad of disputes, including claims involving copyright termination of transfers and licenses.
- Served as Production Counsel for over a dozen TV, film, digital or mobile app content projects
- Defended twice as many employers then the previous year
- Posted a stellar record in LA Superior Court with no judgments awarded against clients
- The firm's entertainment blog, LawyersRock.com, was voted #2 in Best Legal Blog Contest hosted by The Expert Institute
As the firm celebrates its 15th year anniversary, it expects 2018 to be a banner year. Upcoming events include:
This March, Entertainment/IP Managing Partner Richard B. Jefferson, Esq. will be conducting a mentorship session for music company executives at South by South West (SXSW) in Austin, Texas.
The firm plans to release several new law products in 2018 for California employers.
The firm has also added new staff as caseloads have increased. New members of the firm include:
Nicole Davidson, Legal Counsel for Employment Defense/Litigation
Anna Rozman, Legal Counsel for Employment Defense
Victoria Fragoso, Legal Assistant
Alisa Cantarero Paralegal
Daniella Restrepo Paralegal
Pamela Chisholm, Entertainment/IP Client Manager
Visit us at our new locations at:
m.e.t.a.l.® Litigation
Employment Defense/Litigation
Ernst & Young Plaza
725 South Figueroa Street, Suite 4100
Los Angeles, CA 90017
m.e.t.a.l.® IP
Entertainment/Intellectual Property
Pacific Design Center - Red Building
750 N. San Vicente Blvd., Suite 800 West
West Hollywood, CA 90069
About m.e.t.a.l.® Law Group, LLP m.e.t.a.l.® Law Group, LLP is a full service transactional and litigation law firm that has a solid reputation for providing zealous representation and delivering solid results. The firm practice areat include Employment, Entertainment, Business, Commercial Litigation, and Intellectual Property. m.e.t.a.l.® Law Group, LLP has offices in Downtown Los Angeles, CA and West Hollywood, CA. More information about m.e.t.a.l.® law group LLP can be found online at www.metallawgroup.com, on Twitter @MetalLawGroup, and on Facebook at www.facebook.com/metallawgroup.
About the Partners Richard Jefferson is the Managing Partner for all Entertainment, Intellectual Property, and transactional Corporate matters for the firm. John Fagerholm is the Managing Partner for all Employer Defense issues, which includes Labor Board, Disputes and Litigation. Dan Lee is the Managing Partner for all Litigation matters and the head trial attorney for the firm.
Contact
Chica Intelligente LLC
Katrina Jefferson
323-360-4191
www.chicaintelligente.com

Contact