Steinberg Diagnostic Medical Imaging Celebrates a Dream 30 Years in the Making
30 Year Anniversary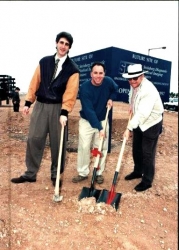 Las Vegas, NV, February 28, 2018 --(
PR.com
)-- In 1988 Dr. Leon Steinberg, Dr. David Steinberg and Dr. Mark Winkler watched as the construction of the very first Steinberg Diagnostic Medical Imaging (SDMI) building was finalized. As SDMI remembers the life of Dr. Leon Steinberg they look back at what has grown from his dreams. SDMI may have opened their doors 30 years ago, but Dr. Leon saw the potential of a dedicated outpatient radiology practice long before that. "My father often reminded us that it takes hard work and dedication, but he knew what SDMI could become and gave us the vision to build on," says Dr. David Steinberg.
In 1958, Dr. Leon Steinberg came to Las Vegas to help Sunrise Hospital build the first radiology center in Southern Nevada. Through his experience in the hospital setting, he saw a need for a more patient-friendly option for medical imaging and aimed to build such a practice. Dr. David Haas was the first radiologist hired at SDMI and when asked to look back over the last 30 years he had this to say: "The first time I met Leon Steinberg he said to me 'If the patient comes first everything else will fall in to place'. It was that vision that made me so pleased to come work with SDMI. Today SDMI is the patriarchal radiology practice in Southern Nevada where the staff and doctors are still focused on having the highest morals and ethical standards. SDMI provides an environment where everyone has an opportunity to succeed."
The dreams of one man are now a city wide legacy stretching from the heart of the Las Vegas Medical District (LVMD) on the corner of Shadow Lane and the newly renamed Wellness Way to the Henderson Health Corridor, where more than 450 staff members and 30 radiologists care for over 1,000 patients everyday throughout the 8 Locations.
Being a patient centric practice is carried through the facilities from the design conception to the equipment installed to the employees that are hired. "SDMI is consistently the first to introduce new technology to Southern Nevada, every patient deserves the best imaging available and we work tirelessly to ensure they receive it." - Dr. Mark Winkler
The 30th anniversary includes expansion of the SDMI executive staff, recently promoted are, Michelle Nicholl, Chief Human Resources Officer, Devon Evanski, Chief Financial Officer, and Rachel Papka, Chief Health Informatics Officer. They joined the reigning chiefs, Operating Officer, Jerry Hartman, Information Officer, Don Shackley and Administrative Officer, Stacey Webb. Together the 5 continue SDMI's strategic growth keeping patient care at the center. "At SDMI we continually analyze workflow, educate staff and work to increase our patient experience efforts to ensure we are growing in a way that honors the foundation on which we were built." - Stacey Webb, CAO
With Dr. David Steinberg at the helm and a leadership team so deeply rooted in Southern Nevada it is no wonder that SDMI has always been a true community partner and neighbor. This year continues their support of notable events like, Susan G. Komen's Race for the Cure, American Cancer Society's Real Men Wear Pink and CEO's Against Cancer initiatives and most recently SDMI joined the American Lung Association as they celebrated 10 years of Scale the Strat with a team of 10 dedicated employees.
SDMI has no plans of slowing down in the years to come, you can continue to expect the same exceptional standards of patient care, top-notch equipment and community involvement from now until their next milestone anniversary and beyond.
Contact
Steinberg Diagnostic Medical Imaging
Denielle Lucas
702.732.6005
www.sdmi-lv.com

Contact