13 Reasons Why the News Media Likes Stan's Mental Health Advice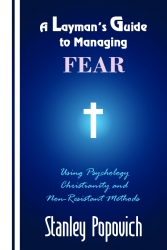 Carnegie, PA, February 28, 2018 --(
PR.com
)-- Stan Popovich is the published author of "A Layman's Guide To Managing Fear."
Mr. Popovich is a Penn State graduate and his easy-to-read book has helped thousands of people to confidently manage their persistent fears and anxieties.
In addition, Mr. Popovich has been on many TV and Radio Shows and his advice has been published in many national publications over the years.
Although Mr. Popovich is a layman and not a professional, here are 13 reasons why the media likes working with Stan.
1. Stan is very knowledgeable regarding various mental health topics and issues.
2. Stanley has over twenty years of personal experience in dealing with fear and anxiety.
3. Mr. Popovich can personally relate to others who struggle with fear and anxiety.
4. Stan has been featured on TV, the Radio, and many national publications.
5. Mr. Popovich has a large fan base on the internet and social media.
6. Stanley's advice has help 1000's of people manage their fear and anxiety.
7. Stan has over 400 book reviews on Amazon.
8. Many counselors use Stan's book to help their clients.
9. Stanley is very approachable, easy to work with, and meets all deadlines.
10. Stan is flexible and always willing to learn new things.
11. Mr. Popovich has a very large presence on the Internet regarding his advice.
12. Stanley is the proud winner of The Evan Carmichael Elite Author Award.
13. Stan offers a lot of free and helpful mental health advice on his website.
Stan is available as a news contributor and/or news source when it comes to dealing with anxiety, fear, depression, stress, addiction, and other fear related issues.
For more information, please visit Stan's website at managingfear dot com for his latest media appearances, published articles, and his overall mental health advice and experiences.
Contact
www.managingfear.com
Stan Popovich
412-430-2807
www.managingfear.com
stanpop822@gmail.com

Contact