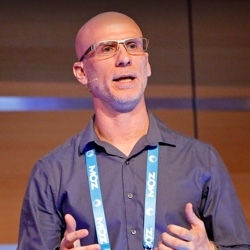 Boynton Beach, FL, March 06, 2018 --(
PR.com
)-- PeakActivity is announcing a major move to help bolster digital marketing capabilities for both itself and its growing customer base. The innovative technology and marketing firm is proud to add Brent Csutoras as Chief Marketing Officer and will also be acquiring Csutoras's media and design agencies. Csutoras is a veteran marketing expert who will focus on expanding the strategic digital marketing results for PeakActivity and all of its clients.
"Brent's vast knowledge of all things related to the search industry makes him an extremely valuable asset for PeakActivity and will add a ton of digital marketing experience to our leadership team," said Manish Hirapara, Chief Executive Officer at PeakActivity.
"Manish knows how important SEO is to the digital presence and success of any online business," Csutoras said. "I'm excited to be bringing my skill set and knowledge base to PeakActivity and can't wait to put it to work for our clients."
Brent Csutoras has been a major player in the SEO industry for over a decade and has vast experience in search engine marketing and content promotion. He is well known in the industry as an international public speaker, entrepreneur, and futurist. 9 years ago, Csutoras helped found Alpha Brand Media, which publishes Search Engine Journal, one of the world's most respected sources for SEO-related news and information.
In addition to his success in growing SEJ, where he is still a contributor today, Csutoras has also successfully built two other agencies, Kairay Media and Pixel Road Designs. Both Kairay Media's digital marketing team and Pixel Road Design's creative group have been acquired by PeakActivity.
"Adding Brent to the PeakActivity team allows us to further expand our resources to help our clients achieve even more success in the digital space," says Hirapara. "Someone like Brent can be invaluable to helping our clients reach their goals."
PeakActivity partners with enterprises to dream, design, and deliver innovative digital results. The experienced team of digital strategists and developers takes a collaborative and iterative approach into each client engagement, tailoring PeakActivity's proven methodologies in eCommerce, digital marketing, and enterprise technology to the needs and goals of each client.