Culinary Fight Club Announces the 2018 Blended Burger Battles Series in 8 Cities
Culinary Fight Club, the National Food Sport series, announces their 2018 "Blended Burger Battle" competitions in eight cities: May 1 - Boston, May 3 - Philadelphia, May 7 - Atlanta, May 9 - Charlotte, May 14 - Milwaukee, May 17 - Chicago, May 24 - Minnesota and May 20 - Florida.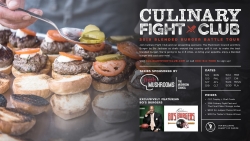 Chicago, IL, March 02, 2018 --(
PR.com
)-- In addition, Culinary Fight Club is excited to announce The Mushroom Council as the returning sponsor, for the 2018 Blended Burger Battles. Culinary Fight Club Blended Burger Battles ups its Food Sport game with the partnership with Bo Jackson Signature Foods. All CFC Blended Burger Battles contestants must use the Bo Jackson Angus Beef Patty to create their Gourmet Burgers in 60 minutes with limited ingredients. Culinary Fight Club multi city pantry sponsor Reinhart Foodservice will be present for the Boston Blended Burger Battle with some exciting twist to the Boston Pantry. National Culinary Fight Club Grill sponsor Bull Outdoor Products is returning in all 19 cities in 2018 to show how the pros grill.
"I am more than ecstatic to have Bo's Burgers be the Burger of Choice for the 2018 Culinary Fight Club Blended Burger Battles. To have the most talented chefs in the business use my product to battle it out in 8 cities, in which 8 champions will create 8 burger recipes is just as exciting as hitting the game winning home run. I have been a closet foodie since I can remember and with this partnership, I get to be that screaming fan in the stands cheering on the CFC Participants as they compete to be the best," commented Jackson, founder of VEJ Holdings, LLC. "I look forward to working with Jiwon McCartney, Chef Turon and their entire team; as well as experiencing as many burger creations as possible."
Culinary Fight Club will host various themes in 2018, including February - Egg out/Chili, March – Pork - the Other White Meat, April - Things with Wings – Poultry, May - Blended Burger Battle, June - Here's the Beef – Beef, July - Taco Showdown, September - Tailgate Throwdown, October - Seafood Showdown, December - Sip + Bite – The Pair Up. A new edition to the Food Sport is Culinary Fight Fest and The Final Plate taking place August 19 and 20 in Chicago to the crown the Ultimate CFC Champion. Culinary Fight Club is back with The Black Box challenge - the pro series during the Travel & Adventure Show in seven cities. Each Culinary Fight Club event benefits Fight2Feed, a non-profit that aims to reduce food waste and feed the hungry.
"Food sport is one of the fastest growing event series in the nation," says Culinary Fight Club founder, Jiwon McCartney. "We are thrilled to expand our reach and work with amazing local chefs who can battle it out to create the most gourmet dish in a competitive environment with limited ingredients and time. What more can you ask – food, sport and network all in a three-hour show?!"
For more information on the latest events, to purchase tickets or sign up to compete, visit culinaryfightclub.com
About Culinary Fight Club
Culinary Fight Club is an event company that produces live cooking competitions in Chicago, Omaha, New Orleans, Ohio, Boston, Nashville, Philadelphia, Florida, Sioux City, Texas, Atlanta, Alabama, Denver, California, Milwaukee, Indianapolis, Charlotte, Twin Cities and Kansas City. Culinary Fight Club has partnered with notable brands including Reinhart Foodservice, Bull Outdoor Grills, Samuel Adams, Mushroom Council, Big Fork Brands, Tiger Beer, The Beef Council and L&C Meats. Culinary Fight Club events takes place at top venues, such as Navy Pier, Hard Rock Café, Extra Virgin, Bottled Blonde and more. Culinary Fight Club is an official qualifying event for the World Food Championships and partner for the Travel & Adventure Show's Culinary State. For more information on upcoming events, visit CulinaryFightClub.com, like on Facebook or follow on Instagram or Twitter.
About Fight2Feed
A 501(c)(3) organization, Fight2Feed's mission is to make a difference by changing the rise of food insecure communities by fighting hunger one block at a time. The company has fed over 60,000 people since its launch in 2014. The non-profit has over 250 volunteers with presence in Chicago, Kansas City, Atlanta and Indianapolis. For more information, to donate or volunteer, visit fight2feed.org, like on Facebook or follow on Twitter.
Contact
Culinary Fight CLub
Jiwon McCartney
800-611-7080
www.culinaryfightclub.com

Contact