Silver State Film Festival Invites Independent Filmmakers from Around the World to Come and Experience Las Vegas
Silver State Film Festival announces dates, venue and information for Las Vegas Film Festival.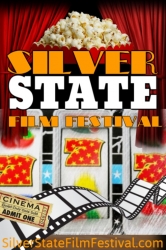 Las Vegas, NV, March 06, 2018 --(
PR.com
)-- Silver State Film Festival is proud to announce they are inviting the world to their first-ever event. The event will be held at Century 18 Orleans Cinemark at The New Orleans Hotel and Casino. The festival Kickoff event will be on Wednesday, September 5, 2018, while the screenings officially start on Thursday, September 6, 2018, and run through Sunday, September 9, 2018. The Red Carpet awards show will take place on Monday, September 10 and in the evening screenings start at 9 am and will go on until midnight every day of the festival.
Submissions for features, shorts and competitive projects are open on FilmFreeway at https://filmfreeway.com/SilverStateFilmFestival.
For more information, please visit the website at http://silverstatefilmfestival.com.
"After so many months of planning, preparation, and strategizing, we are happy to be launching finally. The city of Las Vegas will be hosting very distinctive creatives from different parts of the world. Our platform provides an opportunity for independent filmmakers to find exposure and present their ideas in an environment that is receptive, engaging, appreciative, and saturated with creative people who value the arts. We hope to make this event worthwhile and beneficial for many who are looking for ways to project their films and ideas," said Jon Gursha, Festival Director of Silver State Film Festival.
Silver State Film Festival is going to be one of a kind. Apart from providing a smooth submission process for creatives and filmmakers all over the world, it will also proffer an opportunity for many people to showcase their talent in the perfect environment. The festival will bring together independent filmmakers from around the world who will be screening their films, taking part in different activities and events, and networking.
Silver State Film Festival will involve screening of features, shorts, and competitive projects. There will also be discussions, workshops, seminars, and exhibitions, where every participant will be able to connect and network. Filmmakers will also have the opportunity to sit on a panel, get their work reviewed, win awards, and gain more fans and popularity for their work. "We are excited to create a world class Festival in Fabulous Las Vegas," said Peter Greene, Program Director of Silver State Film Festival.
There are many benefits to taking part in film festivals, especially when it is hosted in Las Vegas. Filmmakers and participants get to meet film marketing agents and have a chance to strike a distribution deal. Participants will also have the opportunity to connect and network with other filmmakers, discover new talents, and get the thrill of seeing people watch their creative work. "This year's Festival is designed to bring together International and local Independent Filmmakers from around the world We are bringing some of the best indie filmmakers together in Las Vegas," said Eric Vollweiler, Co-Producer of Silver State Film Festival.
About Silver State Film Festival
Silver State Film Festival is an independent film festival held annually in Nevada. The organizers desire to bring independent filmmakers from all over the world to Las Vegas, to come and experience a great time, network, and get discovered. For more information, please contact 818-633-5404, silverstatefilmfestival@gmail.com, or visit http://silverstatefilmfestival.com.
Contact
Silver State Film Festival
Jon Gursha
818-633-5404
http://silverstatefilmfestival.com

Contact