Click & Pledge Announces Video Player That Accepts Online Donations
pledgeTV™, a revolutionary online video player, lets viewers donate directly to an organization while donors watch their videos. pledgeTV™ is free for all Click & Pledge accounts to access.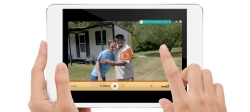 Blacksburg, VA, March 07, 2018 --(
PR.com
)-- Through all the cat videos and clickbait the Internet provides us, one company is taking a stand to break through the digital noise.
This week, the online fundraising company Click & Pledge released
pledgeTV™
, a revolutionary online video player that lets viewers donate while watching a video.
"pledgeTV™ is a new era for online donations and nonprofit videos," said Kamran Razvan, Click & Pledge's CEO. "We like to be a company that releases products at the speed of ideas. pledgeTV™ is the next logical step as nonprofits use more videos as donation appeals. This is a difference that will make a difference in the world of our causes."
Two of the toughest challenges for the nonprofit sector are expanding awareness, while keeping a tight budget. This is one of the many reasons Click & Pledge will offer pledgeTV at no extra cost to its clients.
Last year, Click & Pledge promised that 2017 would be the "Year of Causes." So Click & Pledge invested its time and resources into marketing its "Causes," a moniker the company uses to refer to its customers.
One of the more advanced features pledgeTV™ offers is the ability to "timestamp" a video with different donation forms. This allows nonprofits to further customize their fundraisers. For example, pledgeTV™ can link to one donation form five seconds into a video, then a different form 20 seconds into a video. Users can also track the exact time that each donor gives during the video through robust analytics.
pledgeTV™ also offers myriad ways to customize the design, colors and format of the video player.
pledgeTV™ will be available Wednesday, March 14, to all Click & Pledge clients at no extra charge. To learn more, go to
clickandpledge.com/pledgetv/
.
Contact
Click & Pledge
Matthew Sutherland
540-250-7930
https://clickandpledge.com

Contact