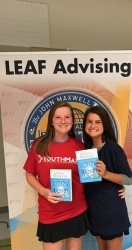 Raleigh, NC, March 08, 2018 --(
PR.com
)-- Half a million young people will be served this coming April through The John Maxwell Team Global Youth Initiative. The series of events is being held worldwide April 1, 2018 through April 30, 2018 in large cities and small villages internationally and locally.
The John Maxwell Team Global Youth Initiative is an international movement comprising hundreds of free community events with topics ranging from leadership development, to anti-bullying, self-esteem and more to help the youth in communities around the world thrive.
Here in North Carolina, Walter Finnigan of LEAF Advising will be hosting events across the state for free. "Through The John Maxwell Team Global Youth Initiative, we have the chance to influence tomorrow's leaders today," said Walter Finnigan, Certified John Maxwell Team Member. " With John Maxwell I've learned that leadership develops daily, not in a day. Our goal is to spark an intentional and lifelong leadership interest in today's youth."
As certified members take to their communities to make a difference, events will be all around the world. Be sure to check youthmax.com to find information about an event happening in your town or region.