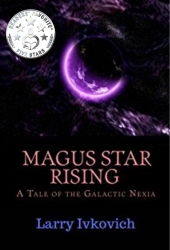 Pittsburgh, PA, March 11, 2018 --(
PR.com
)-- Readers' Favorite announces the review of the Science Fiction book; Magus Star Rising by Larry Ivkovich, currently available at http://www.amazon.com/gp/product/1976480256.
Readers' Favorite is one of the largest book review and award contest sites on the Internet. They have earned the respect of renowned publishers like Random House, Simon & Schuster, and Harper Collins, and have received the "Best Websites for Authors" and "Honoring Excellence" awards from the Association of Independent Authors. They are also fully accredited by the BBB (A+ rating), which is a rarity among Book Review and Book Award Contest companies.
Reviewed by Ruffina Oserio for Readers' Favorite:
If you love well-written stories with three-dimensional characters and sophisticated plots, then Magus Star Rising: A Tale of the Galactic Nexia by Larry Ivkovich, a sci-fi novel will be a delightful treat. It's a story that revolves around the mysterious Magus Star that will appear after many decades, an appearance to which the Senittes give great importance. When tech buff Simon Weller is offered a job to follow the husband of Claudia Honin-Zay, suspected of meeting another woman in the city of Yharrio, he thinks this could be an easy job. But Weller quickly finds himself embroiled in a very strange world. Now, he has to tread a very delicate path in a world where ancient rituals mixed with magic are practiced and where nothing is what it seems. In this world he has to face a very dangerous memory from his past. But there is a more terrifying threat, a mysterious killer who could be empowered by the Magus Star. And can Weller, with his allies, stop this dangerous killer?
Larry Ivkovich is a great storyteller with a profound imagination that brings to life a world that is as fascinating as it is frightening, and characters that readers will enjoy, including Weller, an interstellar hospice, feline-humanoids, and a host of others. The writing is focused and there is a clear balance in the handling of the different elements of the story — a cunning plot, fleshed-out characters, and masterly thematic development. I enjoyed the fact that the author weaves elements of magic and mystery into the writing, creating a dark world that casts a spell on readers who enjoy the "noir" angle. Great writing for a spellbinding novel, utterly delectable!
You can learn more about Larry Ivkovich and Magus Star Rising at https://readersfavorite.com/book-review/magus-star-rising where you can read reviews and the author's biography, as well as connect with the author directly or through his website and social media pages.
https:/www.larryivkovich.com
Readers' Favorite LLC 800-RF-REVIEW
Media Relations support@readersfavorite.com
Louisville, KY 40202 https://readersfavorite.com