Andre Xcellence Releases New EP Through Capitol Records/Priority Records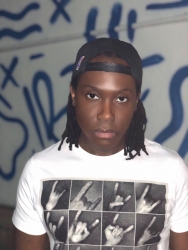 Los Angeles, CA, March 15, 2018 --(
PR.com
)-- Genre blending recording artist Andre Xcellence turns up on new EP I'm Coming. The 5-track release will be distributed exclusively through Xcellent Music in partnership with Capitol/Priority Records.
Inspired by Southern California's sun and fun atmosphere Andre Xcellence plans to redefine what a party is with his new EP I'm Coming. Reality superstar, Blac Chyna recently gave I'm Coming her approval. "It's fire! I'm excited," said Chyna when asked about the EP. Click
www.youtube.com/watch
to watch Blac Chyna and Andre hanging out together in LA.
I'm Coming begins with an infectious party jam entitled, "Go Wild!" The songs dance-pop vibe and comedy rap lyrics sets the pace for the full EP. His lively hook, "Let me go wild, I just want to have fun/I want to go wild because I got one more great run" illustrates his party boy lifestyle.
Other tracks like "Holy Ghost" and "So What?" are LMFAO meets Pitbull. His flamboyant rap cadence adds flair to each song over beats produced and engineered by Christopher Trujillo a.k.a. Tito JustMusic. The Grammy nominated producer/engineer is known for his work on Ariana Grande's 2016 album Dangerous Woman. Tito structured the EPs sound and raps on the trap influenced song "Off The Drank."
When asked about I'm Coming and working with Tito JustMusic Andre Xcellence said, "I see myself as an innovator like Jay-Z, Lady Gaga, Elton John, and James Brown," he continues. "I'm aiming to be the voice of the voiceless with positive, inclusive music."
The EP picks up where Andre left off since releasing "Ram It Up!" last year. His themes go deeper into the international club scene in the midst of champagne showers depicted on the new EP.
Andre and his team which includes rising contemporary POP/R&B artist, August ("Where Are You") spent a great deal of time putting I'm Coming together. The distribution deal with Capitol/Priority records and a co-sign by one of entertainments biggest stars, Blac Chyna puts him in position to make a national impact with the release.
He's set to drop lyric music videos for Go Wild and a few other songs on the EP in the coming weeks. I'm Coming will be available on all streaming platforms. For more information about Andre Xcellence and the I'm Coming EP please check out Andre Xcellence on the social media sites listed below.
Andre Xcellence Online
Instagram / Twitter / Facebook/ Snapchat @andrexcellence
All Media Inquires
sean@xcellentmusic.com
Contact
AD, Inc.
Sean Machum
781-363-8409
xcellentmusic.com
https://open.spotify.com/artist/2fifP9HEPfR6mknwkaiDPG

Contact