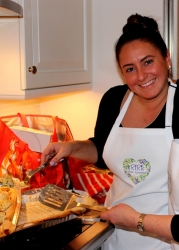 East Williston, NY, March 21, 2018 --(
PR.com
)-- Maria Scores of East Williston, New York has been honored with the Rising Star Award by P.O.W.E.R. (Professional Organization of Women of Excellence Recognized) for her outstanding contributions and achievements in the field of healthy meal preparation and catering. Rising Stars are up and coming in their professions and have shown exceptional growth in a short period of time. They are emerging leaders who inspire and motivate others to reach for the stars.
About Maria Scores
Maria Scores is the Chef and Business Owner of RiRi's Pure Gourmet which specializes in healthy meal preparation and catering. The company was born during a fitness challenge she joined with her gym which included posting meals in their private Facebook group. After the loss of her beloved grandmother and ending an unhealthy relationship, she was having a rough time and decided to join the fitness challenge. Everyone would comment on how amazing Maria's meals looked. During that challenge, she discovered her love for creating new healthy dishes. A few months later, she catered a fundraiser at her gym and one of the members approached Maria to cook his meals. Soon after, he started ordering meals regularly, and his brother followed. The rest is history. The business began two years ago, and since then they have expanded to doing private parties, retreats, teaching the Brownie troops and BOCES students, cooking classes and more. RiRi's continues to grow every day, owing it all to their wonderful clients. Maria is responsible for healthy meal preparation, catering, planning weekly menus and cooking and delivering meals.
Growing up in a big Italian family, food was the main focus in Maria's home. She always considered herself a foodie who loved to bake and prepare meals with her family. Her grandmother, Mama, was the backbone of the family. Her passion and love for cooking, eating and family was contagious. All of Maria's family members are excellent cooks and she has learned a great deal from them. Maria taught herself how to make favorite fattening Italian classics in a more healthy way and to still taste great. By changing the way she ate, she has lost almost 50 lbs. and is continuing to learn the vast ways food affects our bodies. Maria states, "If we properly nourish our bodies with the right foods, our bodies will have our backs. We will feel better and our bodies will naturally find their healthy state." RiRi's is not a weight loss program, even though all the clients who have followed the RiRi's plan have lost weight. It is an added bonus along with clarity, productivity, energy, better sleep and just plain feeling great.
Ms. Scores wants to help empower women and men to love their bodies at any size. She believes body love and acceptance is a vital part of one's happiness and that the "key" to having the "perfect body" is just being happy in the body you are in. If we eat healthy and eat what we like, get enough sleep, lower our stress and move, our bodies will respond in a positive way.
Her B.B.A. in Business Management from Pace University in 2005 has assisted Maria with the "business" end of RiRi's Pure Gourmet. In her spare time, she enjoys yoga, traveling, the beach, spinning, reading, family activities, cooking and baking.
For further information, contact
www.ririspuregourmet.com
About P.O.W.E.R. (Professional Organization of Women of Excellence Recognized)
P.O.W.E.R.'s mission is to provide a powerful network of women who will mentor, inspire and empower each other to be the best they can be. Through our valuable services, and collaborating with like-minded professionals, our members can gain the recognition and exposure to achieve their career goals.