Tokyo Joe's Does Good with the Do Good Roll
Tokyo Joe's, a fast-casual Asian Restaurant with locations in Colorado, Arizona, Texas and Southern CA to raise funds for Local Animal Shelters and support groups by donating a portion of proceeds from the Do Good Sushi Roll to local animal shelters and support groups in our community.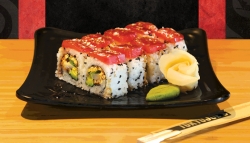 Englewood, CO, March 22, 2018 --(
PR.com
)-- Tokyo Joe's kicks off it's first ever Do Good Roll fundraising campaign this week at all restaurants in Colorado, Arizona, Dallas and Southern California. The program will raise money for Animal Shelters and Animal Support Groups in the communities near Tokyo Joe's restaurants. The roll, which includes Grilled Shrimp, Ahi Tuna, Avocado, Jalapeno, Crispy Onions, Unagi Sauce and Panko Crumbs is available in both 4-piece and 8-piece servings. $0.25 from each 4-piece roll and $0 .50 from each 8-piece roll will benefit the local non-profit in each market through the end of 2018.
"The Do-Good campaign is a fun way to get involved in our local communities. Supporting animals and organizations that utilize animals as a form of support is something that everyone can get behind and feel good about. At Tokyo Joe's we believe in the philosophy of Eat Good, Feel Good, Do Good and this is one way of delivering on that mantra," says Katy McIntyre VP of Marketing.
The roll, also known as the Angel Roll, was the winning submission in a contest that was held at all Tokyo Joe's restaurants in January. Tokyo Joe's team members were challenged with coming up with a new sushi roll that would be tied to the Do Good Roll initiative. The winning roll was developed by Jaxson Bernard, a team member from the Arvada, Colorado Restaurant. "This contest was a fun opportunity for our local team members to get creative and come up with a new sushi roll at Tokyo Joe's. The excitement from everyone was obvious and we had about 25 unique submissions. We will continue to look for ways to engage our team members with menu development in the future," said Mark Davis, CEO of Tokyo Joes.
Tokyo Joe's is proud to support the following organizations: Denver Dumb Friends League, Humane Society of Pike's Peak Region, The Love Pup Foundation, Humane Society of Boulder Valley, The Larimer County Humane Society in Northern Colorado, DFW Humane Society in Dallas, Mary S. Roberts Pet Adoption Center in the Inland Empire of California and the Shea Center for Therapeutic Riding in Orange County California.
Contact
Tokyo Joes
Katy McIntyre
303-564-9060
Tokyojoes.com

Contact