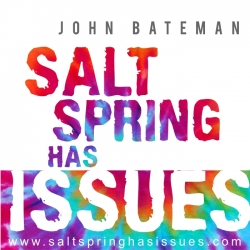 Salt Spring Island, Canada, March 26, 2018 --(
PR.com
)-- John Bateman has been frequenting Canada's famed Salt Spring island since 1985, and a full time resident since 2001. In 2009, John started writing a monthly column in an Salt Spring magazine called, Fishbowl.
John's humorous observations and quirky and surprising writing style has found him many fans over the years, including legendary Canadian broadcaster and writer, Arthur Black.
Excerpt from Foreword:
"Needless to say, penning a humour column based on daily Salt Spring life calls for some exquisite swordplay worthy of a D'Artagnan. Bateman's got the chops. Here he is on perhaps the most pernicious and persistent custom that plagues Salt Spring:
"Hugging on this island has truly transcended the traditional, face-to-face technique. Being world class innovators in the fusion of the emotional and the physical, Salt Springers have pushed the boundaries of what qualifies as an acceptable embrace. Here, appropriate arm and hand placement is not considered a priority. Also not a priority is dress, or lack thereof. There is no guarantee that someone wandering around town topless won't move in for the kill.
"That's Bateman in a nutshell; clever, elliptical and just ever-so-slightly astringent.
Oh – and hilarious. I forgot hilarious.
"You wanna know the real Salt Spring? Buy this book. That way, you'll have an issue too." ~ Arthur Black
Whatever your perception of Canada's enigmatic island may be, throw it out the window and get the, truth is funnier than fiction facts from Salt Spring Has Issues.
saltspringhasissues.com