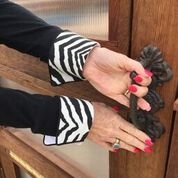 Fort Worth, TX, March 28, 2018 --(
PR.com
)-- Two years ago, a respected Fort Worth banker of more than three decades was coordinating her ensemble for an important evening reception at a prominent law firm. "I wanted to transform my black sweater dress into an after-five look by adding a simple French cuff," shared Cynthia Sadler, founder of Signature Cuffs, LLC. "My exhaustive search turned up nothing for that particular outfit – but it certainly sparked an idea that I could not set aside."
Signature Cuffs are removable, faux-French cuffs for ladies – available in a variety of colors, fabrics and custom-art designs – offering customers limitless style combinations. The line of 16 cuff designs currently includes five categories: Corporate, Casual, Colorful, Christmas/Holiday and the just launched Collegiate line. Signature Cuffs first collegiate products have been exclusively licensed for Texas Christian University and were launched at the TCU Campus Store in late February.
With nearly 6,000 units in production through their primary manufacturer located in the garment district of New York, Sadler is looking ahead to her third phase of production with her newest cuff category – Cowgirl Chic.
"Signature Cuffs exists to provide women a personal confidence in their appearance by offering a fashion accessory that can bring refinement to the clothes they feel most comfortable wearing," further explained Sadler. "With our one-of-a-kind, faux-French cuffs, women can enhance their style and professional quality of any long-sleeved outfit to maximize their wardrobe and boost their self-confidence."
Sadler officially began Signature Cuffs in January 2017, moving at lightning speed through design and production to achieve a soft launch last fall. Her Christmas/Holiday cuff collection features reproductions of six unique hand-painted designs by Texas artist Dani Hale, and was available just in the nick of time for the 2017 holiday sales season at the gift shop of Bass Performance Hall.
"Our first year was consistent with expectations. Feedback from our customers has been fantastic," reported Sadler. "As the market learns more about the use and utility of our cuffs as a fashion accessory, our second year should be even more gratifying."
In business only one year with products available for just over four months, Signature Cuffs has already received several honors, including:
· Top 10 Finalist for Fort Worth Business Plan Competition, Fort Worth Business Assistance Center (FWBAC) – October 2017
· Bronze ADDY Award for Packaging Design, Advertising Club of Fort Worth – February 2018
· Top 10 Aledo Inspiring Entrepreneurs to Watch in 2018, AledoMoms.com – January 2018
A long-time Fort Worth resident and active community volunteer, including a decade of service on the executive board of the Fort Worth Chamber of Commerce, Sadler understands the value of leveraging personal and business relationships for her growing business.
"Relationships matter. That's why we turn to local partners for support services and professional advice on a regular basis," continued Sadler. "These critical partnerships add exceptional value to our creative cuff team."
Order fulfillment for Signature Cuffs is handled by Woods Distribution Solutions, who recently moved to a 250,000-square-foot warehouse in Fort Worth. Additionally, 100 percent of product assembly and package production is turned through Expanco, a 501(c)(3) non-profit in Tarrant County that provides vocational services to adults with disabilities.
"Expanco is thrilled to partner with Signature Cuffs to handle packaging of this unique project," said Dena Walts, vice president of operations for Expanco. "Our employees – each with their individual skill sets – have loved the challenge and look forward to working on this job."
Retail pricing for Signature Cuffs begins at $78 and are available online at
www.signaturecuffs.com
. The exclusive line of TCU cuffs were just launched in February and are now for sale at the TCU Campus Store at 2950 West Berry Street, 76109. A limited selection is also available at the gift shop of Bass Performance Hall at 525 Commerce Street, 76102.