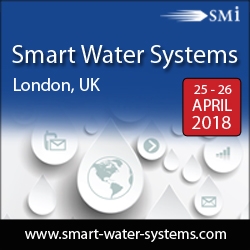 London, United Kingdom, April 12, 2018 --(
PR.com
)-- SMi's Smart Water Systems conference is just 2 weeks away and the organisers are pleased to share the preliminary list of attendees.
Amongst participants: Anglian Water Service, CMI Balteau, De Watergroep, Dwr Cymru Welsh Water, Elster, Irish Water, Jersey Water, Northumbrian Water, Ofwat, OS, Roturk, Royal Haskoningdhv, Severn Trent Water, South East Water, South West Water, Southern Water, Sutton & East Surrey Water, Thames Water, VCS Denmark, Vitens, Water-link, WaterSmart Software, Welsh Water, Xylem, Severn Trent Water Ltd and many other organisations.
View the confirmed list of attendees to see who to network with and join them by booking on the event website - SMi Smart Water Systems conference -
http://www.smart-water-systems.com/prcom
A brief overview of what to expect at Smart Water Systems:
24 April (Pre-conference Workshop)
A data-driven approach to managing water networks - hosted by Artesia Consulting;
25 April (Day 1 - Main Conference) will open with a regulatory keynote from OFWAT; addressing topics on customer engagement (Anglian Water Services and Thames Water); strategies toward PR19 goals (Sutton & East Surrey Water Plc, Southern Water, Severn Trent Water Ltd); improving the operational efficiency of water utilities (Bentley Systems International Limited); water smart software (WaterSmart Software); and give insight on projects utilising data intelligence (Northumbrian Water);
26 April (Day 2 - Main Conference) will explore key issues surrounding the evolution of smart sensors (Irish Water); the broader move to smart grids for utilities (Vitens); enhancing customer engagement (De Watergroep); big data handling (Kamstrup A/S); and applying behavioural insights to the energy environment and sustainability (The Behavioural Insights Team).
Full programme and registration form at
http://www.smart-water-systems.com/prcom
Contacts
T: +44 (0)20 7827 6000
E:
ldurneva@smi-online.co.uk
Stay Connected
LinkedIn - Follow "SMi Group"
Twitter – @UtilitiesSMi #SmartWaterSystems
Smart Water Systems Conference | 25 - 26 April 2018 | London, UK