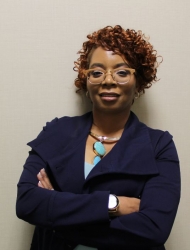 Glenn Dale, MD, April 28, 2018 --(
PR.com
)-- Tiffanylynette A. May-Byrd of Glenn Dale, Maryland has been recognized as a Professional of the Year for 2018 by Strathmore's Who's Who Worldwide for her outstanding contributions and achievements in the field of finance.
About Tiffanylynette A. May-Byrd
Tiffanylynette May-Byrd has over 20 years experience in the financial field. She is the owner of LEC Firm, DBA The Legacy Firm for the past 11 years. This company provides services internationally to nonprofits. She collaborates with small businesses, churches and ministries regarding accounting, bookkeeping and taxes. Ms. May-Byrd educates clients on the legalities of 501(c)3 status and also educates clients on software as needed. She is proud to provide tax preparation, planning and sound financial strategies to individuals, small businesses, CDC, EDC, nonprofits and community services. She also assists immigrants with filing and processing W-7 forms so they can work.
Ms. May-Byrd is also the founder and owner of Cup of Tea Foundation, Inc. that is a forum and resource provider for those affected by domestic violence and various abuses. In addition, she is the founder of Mount Royal Community Development Corporation which is a nonprofit economic development and marketing corporation serving the Mount Royal District in Maryland.
Affiliations and memberships for Ms. May-Byrd include the National Association of Tax Preparers, and Women United-United Way of Central Maryland. She is a Board Member of Banner Communications in Baltimore and a Board Member of Gaither Enterprises of Baltimore. She is both Founder and a member of the Mount Royal Development Corporation.
Tiffanylynette is a 2019 candidate for a BBA in Finance and Communication from Walden University. She has four children, Sade Tiffany Bea, Brionna Renee Bea, Bryan Morgan May and Giovana Elise-Rosi May. In her spare time she enjoys family activities, travel, board games and baking.
For further information, contact
www.lecfirm.com
.
About Strathmore's Who's Who Worldwide
Strathmore's Who's Who Worldwide highlights the professional lives of individuals from every significant field or industry including business, medicine, law, education, art, government and entertainment. Strathmore's Who's Who Worldwide is both an online and hard cover publication where we provide our members' current and pertinent business information. It is also a biographical information source for thousands of researchers, journalists, librarians and executive search firms throughout the world. Our goal is to ensure that our members receive all of the networking, exposure and recognition capabilities to potentially increase their business.