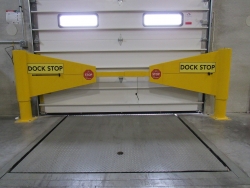 St. Charles, IL, April 18, 2018 --(
PR.com
)-- The Dock Stop Gate from "Save"ty Yellow Products is a new, one-of-a-kind safety solution designed to prevent accidents – specifically fork trucks driving or backing off docks at warehouse and facility gates.
With forklift injuries in the thousands every year, "Save"ty Yellow designed the industry's strongest gate safety solution – the Dock Stop. While there are many products to disturb traffic at gates and docks, none provides the performance of the Dock Stop.
The Dock Stop is designed to withstand impacts of 4,000 pounds at 5 mph and meets OSHA requirements. The Dock Stop includes two rotating arms and two 42" tall mounting bollards (30" bollards are also available) connected by a sliding locking bar which locks in place with a pin. Anchors are available on request.
According to President Dan Gentile, the Dock Stop is one of the stronger solutions on the market for forklift dock safety.
"Our flexibility in the manufacturing process literally lets us develop products that are a true need in the marketplace," said Gentile. "The Dock Stop fills a glaring void in dock protection products until it was developed. There are bulky nets, lightweight gates and other partial protectors that are made more for gate awareness but those can't proactively prevent forklift accidents. We also designed it without any pinch points during use. That's why the Dock Stop is truly innovative in the facility safety field."
Other dock solutions from "Save"ty Yellow Products include lightweight lift gates, driveway, rotating, and open dock gates, as well as door track protectors.
"Save"ty Yellow Products is an industry leading producer of facility asset protection and safety products used in manufacturing, distribution centers, and warehouse facilities.
What separates Save"ty Yellow Products from other manufacturers is its ability to go from discussion to drawing board to manufactured product in a short period of time. This has allowed "Save"ty to increase its safety supply products business year-after-year for the last 15 years.
"We definitely take an innovative approach to manufacturing safety solutions," added Gentile. "We're one of the only companies where someone can say to us 'I wish this product existed' and then we can make it for them from scratch in a very short period."
All "Save"ty's products are made in America, unlike many other manufacturers. Many companies do not print the country of origin of their products on shipping labels or invoices – and some do not alert customers that the products are made in China or India or elsewhere. Making 100 percent of its products in the U.S. means "Save"ty can better oversee quality control and expect higher standards.
About "Save"ty Yellow Products
"Save"ty Yellow Products is an industry leading producer of facility asset protection and safety products used in manufacturing, distribution centers and warehouse facilities. The Company is a solution provider, with several models for each product line giving distributors and customers a choice when designing and protecting a facility. Its entire product line, including custom applications, is powder coated for long lasting durability.
The Company manufactures safety products including but not limited to Guardrail with The Original LIFT-OUT Sleeve Design, in Standard, Heavy and Lute Duty, Curved end and low-profile end of aisle rack protection, Mezzanine Safety Gates, Modular and all-welded handrail and steel bollards.
For more information, visit
www.save-ty.com
or call 877-728-3891. Also, follow "Save"ty Yellow Products on Facebook, Twitter and LinkedIn.
Media Contact:
Ed DeMask
DeMask Marketing
630-389-0572, office
630-768-1404, cell
ed@demaskmarketing.com